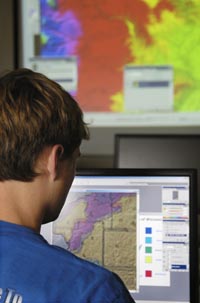 Information Processing Consultant
Application deadline: 11:55 p.m. CDT, June 19, 2019
For more details, and application instructions, visit the UW-Madison Jobs Site.
The Wisconsin State Cartographer's Office (SCO), a unit within the Department of Geography at UW-Madison, seeks a qualified individual to develop and maintain geospatial technologies in support of the SCO's mission. This includes the development, deployment, and ongoing maintenance of open source and commercial geographic information system (GIS) software tools in traditional and web-based applications, as well as coordination of selected special projects.
Degree and Area of Specialization
Bachelor's Degree in Geography, Cartography, Geographic Information Systems, Computer Science, or related field.
Work Experience
A Bachelor's Degree in another area of study combined with a graduate certificate in GIS, or combined with two years of experience in mapping and/or GIS applications may be substituted for the above requirement.
Requirements
Strong GIS skills. Hands-on experience with geospatial data and GIS software, including raster and vector data, large datasets, spatial analysis, and model building.
Demonstrated experience writing scripts for geospatial data processing, including Python and ArcPy.
Demonstrated experience creating new web mapping applications using technology such as JavaScript, Leaflet and CARTO.
Experience with multi-user spatial databases such as PostGIS, including installation and configuration.
Experience with collaborative environments such as GitHub.
Effective oral and written communication skills.
Strong collaborative skills.
Ability to plan, think strategically, be creative, and self-motivated.
Last updated: June 7, 2019