Quick Links
UW-Madison has a long and rich history in geospatial sciences, going back to early and internationally recognized programs in cartography, surveying, and photogrammetry. In more recent years additional strengths have developed in multi-purpose land information systems, remote sensing, geographic information systems, soil landscape modeling, citizen involvement in land use planning, geospatial metadata, and transportation infrastructure modeling. Many leaders of professional associations in these fields have UW-Madison roots.
Degree programs involving GIS, along with research and outreach, are mainstays of several departments and colleges, supported by a series of centers. Beyond these traditional fields, additional interest areas exist in disciplines as diverse as library science, land tenure, statistics, forestry, business, regional planning, art history, demography, and epidemiology.
2018 UW-Madison Geospatial Summit
Mark your calendar for the 2018 UW-Madison Geospatial Summit on  Tuesday, November 6th! This event will be held in the Symphony Room at the Gordon Dining and Event Center, 770 W. Dayton St. in Madison.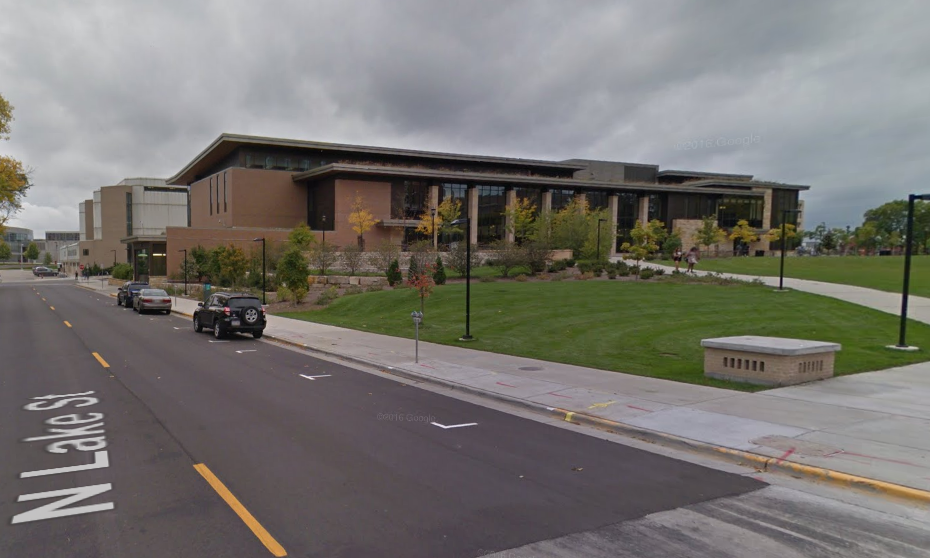 (Enter on the North side of the building)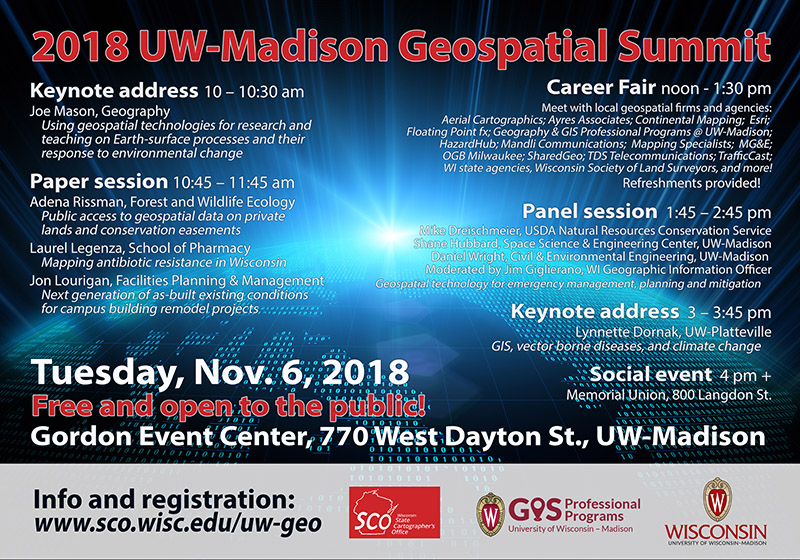 The day starts off with a keynote address by Prof. Joe Mason of the UW-Madison Geography Department, who will speak on the recent flooding in Wisconsin and the utilization of LiDAR and other geospatial technology to analyze such events. Mason's keynote will be followed by a paper session featuring three speakers from UW-Madison. Prof. Adena Rissman from Forest and Wildlife Ecology will discuss her current conservation easement mapping project in the state. Laurel Legenza, Comparative Health Systems Global Pharmacy Fellow in the School of Pharmacy, will discuss a project to map and analyze spatial variations of antibiotic resistance across the state. Jon Lourigan, CAD Manager in Facilities Planning, will discuss LiDAR technology to collect data on building interiors.
These papers will be followed by a Career Fair, with representatives of local geospatial agencies and companies on hand to talk about what they do and the opportunities they offer to prospective students.
Employer Participants:
Aerial Cartographics of America
Ayres Associates
Continental Mapping
Esri
Floating Point fx
Geography – UW Madison
GISPP – UW Madison
HarzardHub
Mandli Communications
Mapping Specialists
MG&E
OGB – Milwaukee
SharedGeo
TDS Telecommunications
TrafficCast International
WI State Agencies
WSLS – Madison Chapter
Following the Career Fair, there will be a panel session focusing on geospatial technology for emergency management, planning and mitigation. Researchers and practitioners will discuss how geospatial technology can be used to predict and prepare for disasters, as well as disaster monitoring, recovery and resiliency. This session will be moderated by Jim Giglierano, Wisconsin's Geographic Information Officer.
Prof. Lynnette Dornak, of the Geography Department at UW-Platteville, will deliver the final keynote address of the day. Her talk will focus on the impacts of climate change on Lyme disease risk in North America. This is an excellent opportunity to learn more about geospatial research at another UW system institution.
Plan to attend this day full of interest and value for students, staff, faculty and practitioners at UW-Madison and in the extended university community.
The event is being sponsored by the State Cartographer's Office and the UW-Madison GIS Professional Programs, both affiliated with the UW-Madison Geography Department.
Parking:
Parking on campus is difficult! The nearest public parking is two blocks away at the State Street Campus Garage at the corner of North Lake and State Streets. (415 North Lake St.)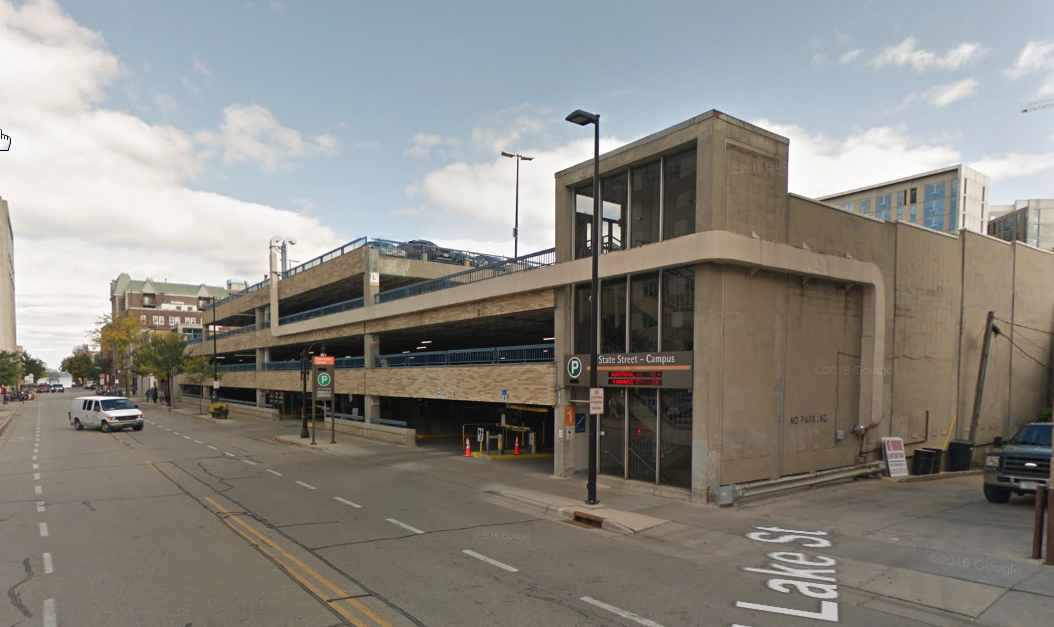 (State Street Garage looking north on Lake Street)
————————————————————————————————-
Highlights of the 2017 Summit: The 2017 Geospatial Summit was held on April 26th at UW-Madison and attracted over 125 registrants. Attendees were from various UW system campuses, various government agencies, private companies, non-profits, the general public, as well as students, faculty, and staff.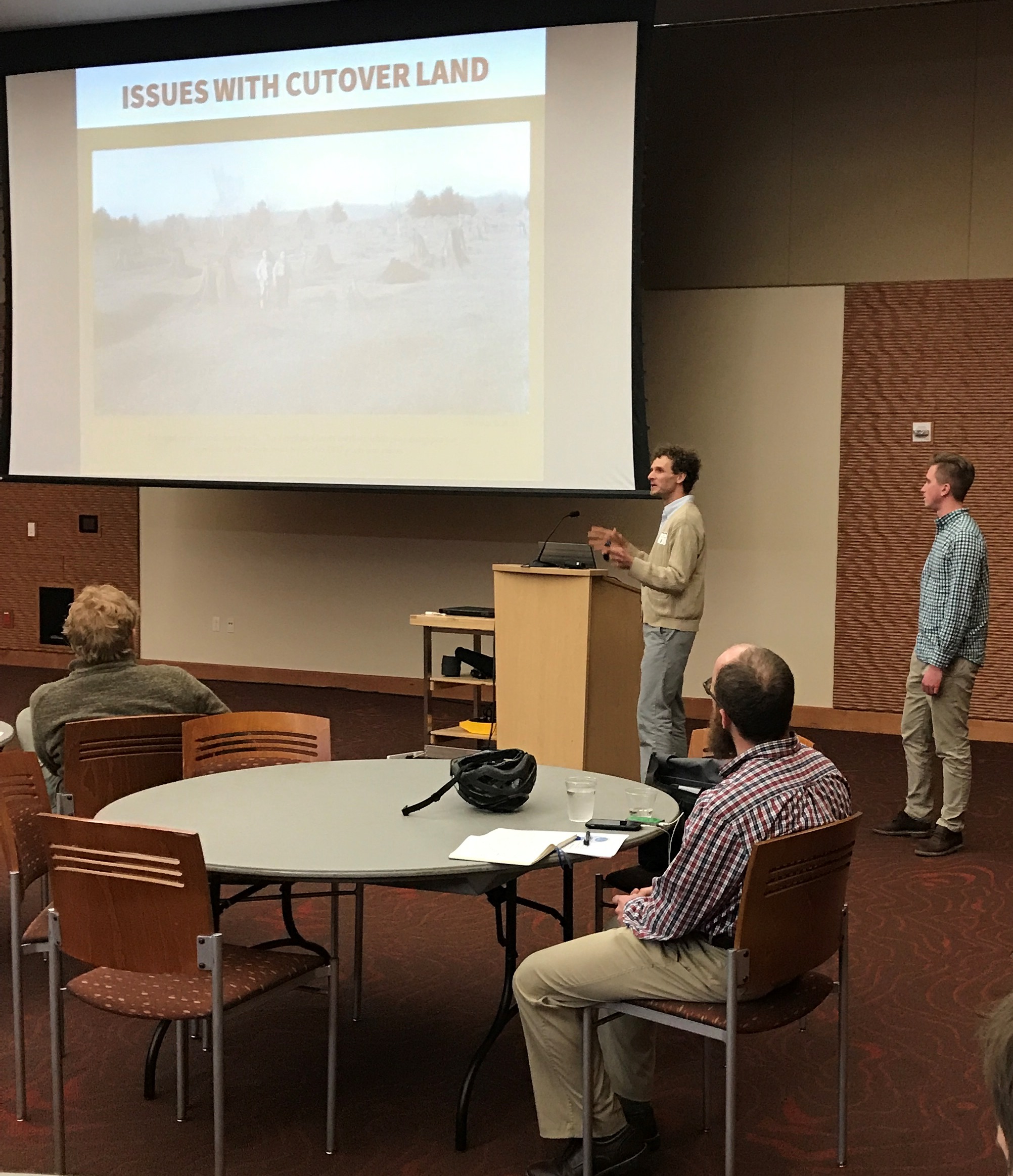 A GIS Professional Career Panel kicked off the event discussing their experiences and perspectives as geospatial professionals. Representatives from 12 area employers participated in the Geospatial Careeer and Networking Fair where students and attendees learned how they can maximize their opportunities as they think toward the future.
The afternoon had fifteen research presentations by a diverse group of speakers and concluded with a keynote presentation.
UW-Geo Email Distribution List
We maintain an email distribution list which is open to anyone interested in geospatial technology and applications on the UW-Madison campus. The list is for posting news, coordinating events, starting discussions, etc.
If you would like to join the list, please complete the following form:
Once subscribed, you may post to the list by addressing your message to: uw-geo@lists.wisc.edu
Geospatial Help and Training
UW-Madison does not have a physical GIS "helpdesk" for answering technical questions regarding GIS software and procedures.  There are, however, several ways to get basic assistance.
GIS Technical Support via Email
For GIS software support, you can send questions to our campus GIS tech support list.   A team of volunteers will be happy to help!
Robinson Map Library
UW-Madison students, faculty and staff can contact the Robinson Map Library for assistance with the following:
Brief introduction to ArcGIS software and extensions
Basic understanding of geospatial data types and formats
Where to find reliable sources of geospatial data
Using and understanding metadata
Contact the Map Library via e-mail,  or contact Jaime Martindale directly at (608) 262-1471.
Esri Academy
The Esri Academy includes many training modules, for both new and experienced Esri software users. We have a site license for free access to many of these. Please contact Math Heinzel for more information.
Instructor-led Training at LICGF
The Land Information and Computer Graphics Facility offers regular workshops, primarily on ESRI software.  They also offer student and staff discounts for their Instructor-led classes.
Other Workshops
The Robinson Map Library offers two "Introduction to GIS" workshops (once in the Fall semester and once in the Spring semester). For information on when and where these workshops take place, visit today.wisc.edu and search for "Introduction to Geographic Information Systems."
Last updated: October 31, 2018