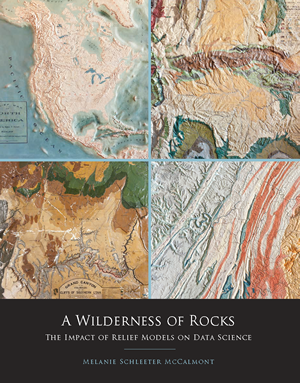 Melanie McCalmont, a 2006 M.S. graduate of the UW-Madison Geography Department recently published a book entitled "A Wilderness of Rocks: The Impact of Relief Models on Data Science."
The University of Wisconsin has 29 historic relief models at the University of Wisconsin-Whitewater and in Madison at Science Hall and the UW Geology Museum. The book has professional full-color photography of these relief models, including those not on display.
The description of McCalmont's multi-year research and writing effort reads:
"Discover the University of Wisconsin collection of historic relief models, or three-dimensional maps. The University of Wisconsin relief models were crafted from 1875-1943 at the dawn of the analytics age. Relief models are an extremely effective visualization tool. They help us intuitively understand big data sets and to create spatial awareness–the knowledge of relationships between objects, places and ourselves. Each relief model is shown in beautiful color photography. Learn their fascinating stories of expeditions and earthquakes, mountains and museums, bankruptcy and battlefields, governments and glaciers."
The book is available on Amazon as both a hardcover and paperback; an e-book is coming soon.