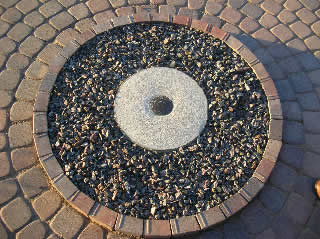 RON RIPP GPS survey monument.
The National Spatial Reference System now has a permanent station named RON RIPP GPS. The station, set in a very attractively built and landscaped area in Indian Lake County Park near Madison, was officially dedicated on November 1, 2006. The monument, a brass cap on top of deeply set concrete, is a precise survey station dedicated to the citizens of Dane County as a public resource for professional surveying work, and recreational activities such as hiking, orienteering and geocaching.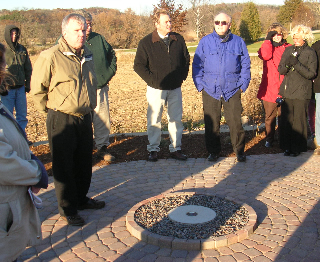 Kevin Connors, Dane County Conservationist, addresses the audience at the dedication ceremony.
Ron Ripp, Dane County Surveyor for twenty-one years, died unexpectedly in June 2004. Shortly following his death the idea of creating a well-established prominent marker in his memory was born. Indian Lake County Park was chosen as the location since it is close to the home of the Ripp family. The dedication ceremony, organized by former Dane County Land Information Officer Diann Danielsen, included short remembrances of Ron from professional colleges, friends and family. Construction of the site and station were accomplished with the assistance of the Madison Area Surveyor's Council, WI Department of Transportation, and other organizations in the Madison area.