A revised and updated version of the Dane County Map for Bicyclists is now available. Produced through a cooperative effort by the Madison Area Transportation Planning Board and Dane County, the map is designed to assist bicyclists in identifying the safest and most enjoyable routes in Dane County.
Available for free from a variety of Madison-area organizations, the map now has Latitude and Longitude ticks along the margins, no doubt in response to the explosion of recreational GPS users since the map was last published in January of 2002. Another noticeable enhancement is the use of shaded relief in the background to add depth to the map.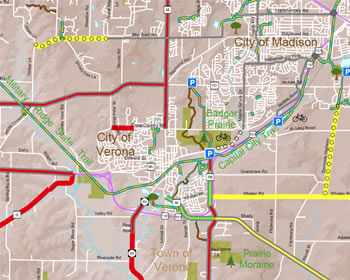 The printed map is a nice product, but I was especially interested in the multiple digital access methods the Transportation Planning Board is using to get the map in the hands of consumers. In addition to a downloadable PDF, it is also now available as an ESRI ArcReader PMF (and associated data files), and a set of Google Earth KML files. Even if you live elsewhere in the state, these are worth a look. As the public becomes more digital-map savvy, we'll probably see more multiple-format delivery options like this in the future.