Philanthropist, map collector, cartographer, and technology guru David Rumsey will speak on the UW-Madison campus on Friday May 9th in Science Hall.
Rumsey is widely known for his amazing personal collection of over 150,000 historic maps focusing on the 18th and 19th centuries in North and South America. The former real estate developer turned map fanatic began his collection in the early 1980's, and it grew quickly until the late 90's when his focus turned to digital preservation and making portions of his collection available over the Web. Today, approximately 17,400 maps are available on his Web site.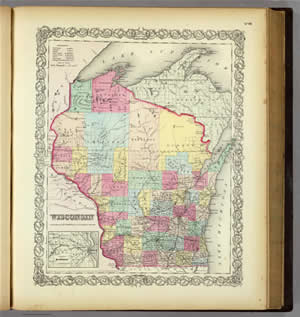 Wisconsin as it appears in an 1856 World Atlas
published by J.H. Colton and Company. Courtesy
of the David Rumsey Map Collection.
(Click for full-resolution version, 1.4 Mb)
Dr. Mark Harrower, professor of Cartography at UW-Madison, describes Rumsey as "one of the most important figures in cartography today, and delivers a fantastic lecture every time I've seen him speak."
For more information on Rumsey, and the David Rumsey Map Collection, visit http://www.davidrumsey.com.