The doors of Science Hall on the University of Wisconsin-Madison campus were opened wide on September 1, 2004 for what turned out to be a very successful exposition of the mapping sciences in the Department of Geography.
The open house gave visitors an opportunity to learn more about the wealth of resources that make UW-Madison one of the nation's leading academic training centers in geography, cartography, and GIS. We attracted over 100 people from a range of county, state and federal governments, the private sector, libraries, professional organizations, plus students and faculty. Some came from as far away as Sheboygan and Eau Claire, incorporating their visit with other business in the city. For many, it was their first visit to historic Science Hall.
A highlight of the Open House was a visit by Professor Arthur Robinson who visited several offices, plus his namesake Map Library. We were honored to have "Robby" visit us, particularly in light of his death just six weeks later.
The concept behind holding an open house began with a desire to show off the SCO's new office space in Science Hall, and to celebrate the 30th anniversary of Art Ziegler's hiring as the first State Cartographer in 1974. The idea soon snowballed, and grew to include the rejuvenated Robinson Map Library, the Department's GIS Certificate Program, the History of Cartography Project, the Cartography Laboratory, the SoLIM soil mapping project, and the Geography Library.
All of the participants set up table displays, while a slide show ran in the GIS lab showing activities of each group. Hosts were at each office ready to explain current projects, and of course we had plenty of food, drink and cake!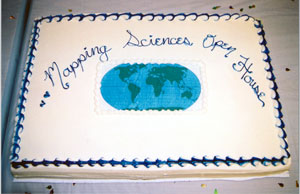 As an unexpected bonus, the open house spurred interest in a potential project to digitally scan and archive all United States Geological Survey (USGS) paper maps held by the Robinson Map Library. Discussions between Map Librarian Jamie Martindale and USGS representatives in Madison are in progress to work out details of the arrangement. More information on this exciting opportunity will appear in a future edition of the Mapping Bulletin.