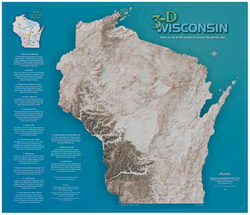 The Wisconsin Geological and Natural History Survey (WGNHS) recently published a new "3-D" landscape map of Wisconsin. When viewed with anaglyph glasses (2-color glasses with a red and cyan lens), the landscape features "pop" out in virtual 3-D.
Derived from 30-meter resolution digital elevation data produced by the U.S. Geological Survey, the map also includes a key that describes major geologic features in Wisconsin.
The map is available for $20.00 plus shipping and tax. It measures 27.5 x 32 inches and ships with two pairs of 3-D glasses. If you'd like additional glasses, WGNHS sell them in sets of 10 for $5.00 and 25 for $10.00.
The Wisconsin Geological and Natural History Survey, a part of the University of Wisconsin–Extension, is an interdisciplinary organization that conducts natural resources surveys and research to produce information used for decision making, problem solving, planning, management, development, and education.