Mark your calendar for May 1-5 when the national conference of the American Society for Photogrammetry and Remote Sensing makes its first visit to Midwest. Expected to draw over 1,200 geospatial professionals from around the world, the 2011 ASPRS conference will be held at the Frontier Airlines Center in downtown Milwaukee.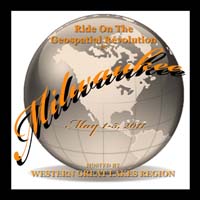 The week kicks off with fourteen half- and full-day workshops on Sunday May 1st and Monday May 2nd, followed by two and a half days of more than 100 technical paper presentations, several plenary sessions, and a new oral poster session. A variety of special user group meetings are also planned. The range of tracks and topics covered are too numerous to list here, but they typically relate to the acquisition, processing, and analysis of remotely-sensed information from both satellite and aircraft platforms, as well as the application of remotely-sensed imagery across a wide range of disciplines.
Several social events are also on planned during the conference. Registration includes exclusive access on Wednesday night to the Milwaukee Public Museum. In addition, the Western Great Lakes Chapter of ASPRS is hosting a special Monday evening reception at the Harley-Davidson Museum. The Harley event, which has an additional $30 cost, includes a pass to the Harley-Davidson Museum, a "Wisconsin style" dinner, and (of course) polka band entertainment. See the ASPRS Web site for more details.
Early registration runs $490 (ASPRS members) or $635 (non-members) for the entire week. Daily registration rates are also available. Anyone interested in attending is encouraged to register prior to April 1, as rates jump significantly after that date.
Founded in 1934, the American Society for Photogrammetry and Remote Sensing (ASPRS) is a scientific association serving over 7,000 professional members around the world. Their mission is to advance knowledge and improve understanding of mapping sciences to promote the responsible applications of photogrammetry, remote sensing, geographic information systems (GIS), and supporting technologies.
For more information, visit the ASPRS conference Web site.