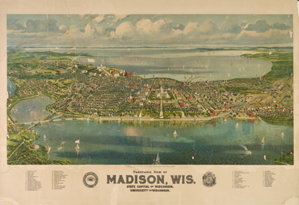 Recently, the Wisconsin Historical Society published online the first 500 maps from its historic map and atlas collection. The online maps focus mainly on Wisconsin and the Midwest, and range in date from 1584 to 2010. The collection includes a variety of map types, from charts of early explorers to simple outline maps suitable for classroom use.
The entire collection is searchable by keyword, geographic entity, or map type. Map types include:
Bird's-eye-view maps of Wisconsin cities and villages dating from the 1860s. There are 90 titles in this series.
Maps from rare books, manuscripts, magazines, and journals covering various aspects of US and Wisconsin history. Several hundred maps are available online covering early American exploration and settlement, Wisconsin county histories, and various aspects of the state's history.
The George S. Parker map collection, containing high-resolution scans of Parker's collection of 57 of the earliest maps of North America, placed on deposit with the Society last year.
A series of several hundred reference maps of Wisconsin outlining cultural and geographic patterns over time, including the evolution of tribal lands and county boundaries, ethnic concentrations, and economic activities.
To access the collection visit the Map and Atlas Collection website.
Nearly all of the maps in the online collection are available for purchase as archival pigment prints or digital files, and may be licensed for reproduction. More information can be found on the Historical Images section of the Society's website. Most maps can be printed or downloaded free of charge for nonprofit educational use, or for private use by individual researchers.
The collection represents a fraction of the Society's map holdings. To access physical maps that are stored in the Historical Society Archives, users can access the card catalog in the Archives Reading Room. Some maps are also cataloged in MadCat, the University of Wisconsin's online catalog system.
The site also has links to The Bordner Survey (an economic land survey of Wisconsin beginning in the 1930s) and the US General Land Office Survey Field Notes and Plats for Wisconsin, both hosted by UW Digital Collections.
The Society plans to add additonal maps in the future. Contact Michael Edmonds, head of digital collections and web services for the Society, for more information about the collection.