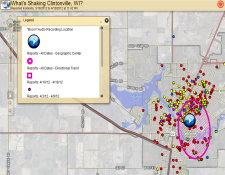 Waupaca County received an Esri SAG (Special Achievement in GIS) award at the recent Esri International User Conference in San Diego for its "What's Shaking Clintonville" site.
The site documents "reported shaking incidents" in the city of Clintonville in early 2012. Ultimately, the cause of the shaking was found to be a 1.5 magnitude earthquake that hit the city. GIS was used throughout the incident to help investigate potential sources of the mysterious shaking, and to help share information with officials, the public, and the media.
The site was developed by Ian Grasshoff, GIS Coordinator at Waupaca County, and generated a lot of interest from users all over the country. According to Ian, before the US Geological Survey confirmed the earthquake, residents were quite worried, and he gave a live demo of the site to a packed town hall meeting so that people could see where the shaking incidents were occurring. In addition, some of Ian's maps appeared briefly on a "Good Morning America" story on the earthquake.
Esri's SAG awards honor organizations that have made significant strides and set new precedents throughout the GIS community. Awards are presented each year at the Esri International User Conference.
A complete list of 2013 winners can be found here. Previous winners, including many from Wisconsin, are listed here.