Two Esri SAG (Special Achievement in GIS) awards were received by Wisconsin entities this year at the Esri User Conference, one by the City of Oshkosh (in collaboration with Houseal Lavigne Associates) and one by Waukesha County.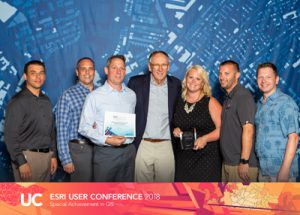 The City of Oshkosh and Houseal Lavigne Associates (HLA) received an award for their work developing a site plan for a new campus for Oshkosh Corp., which recently received a multi-billion dollar contract to manufacture the military's Humvee replacement. The plan served to visualize what the campus could look like, help win public support for the project, and ultimately convince Oshkosh Corp. to stay in the community. According to the Esri awards website Oshkosh Corp. announced in 2017 that they were searching for a new headquarters location. Determined to retain the company, the city performed a site assessment and then hired HLA to develop a plan, program and renderings. The plan had to incorporate views of the main building, public recreational amenities, a riverwalk and trails, access to Interstate 41, and opportunities for expansion. Utilizing Esri CityEngine, they produced illustrations and a web scene that helped the public visualize the potential for the concept and ultimately win support to sell part of the city's waterfront golf course for the new campus. Oshkosh Corp's Board of Directors accepted the city's proposal and will break ground on their new campus in 2018.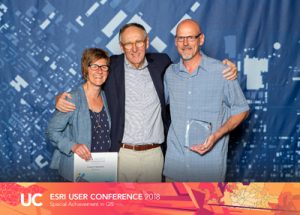 Waukesha county's award reflects their efforts using Esri software to enhance data flexibility and access. According to the Esri awards website the county migrated their parcel database into Esri's parcel fabric in 2017 to take advantage of existing parcel editing tools and automate the parcel update workflow. The county also implemented ArcGIS Enterprise/Portal for ArcGIS to empower their users in sharing maps and apps with both internal staff and the public. Many of the county data sets were moved to Esri's open data portal. Also important was the county's effort to move their GIS enterprise stack to the Amazon Cloud in 2016.
More complete information along with the names of the geospatial professionals behind these awards can be found on Esri's 2018 SAG awards page. Congratulations to all involved!