The Wisconsin Land Information Program at the Department of Administration (DOA) has announced the appointment of new Wisconsin Land Information Council (WLIC) members to fill spots vacated by previous members whose terms had expired.
The Secretary of the DOA has approved the following list of members effective May, 2019: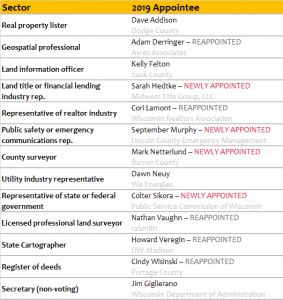 The WLIC is attached to the DOA and serves an advisory role on matters relating to the Wisconsin Land Information Program.
The Council consists of 12 members appointed by the DOA for three-year terms. Membership on the Council consists of representatives from various sectors that develop or utilize land information records. The state Geographic Information Officer serves as the non-voting Secretary of the Council. The DOA Division of Intergovernmental Relations provides staff support for council meetings.
The next WLIC meeting is planned to take place in Madison on Wednesday, June 26th, at 1:00 pm. As always, the meeting will be open to all.
For more information on the WLIC see the council's webpage.