The Fall Regional Meeting of the Wisconsin Land Information Association (WLIA) will be held in person at the Best Western Premier Park Hotel in Madison, from November 3-5, 2021.
The agenda includes a number of promising presentations on NG9-1-1, statewide mapping, redistricting and other topics. One of the more intriguing presentations will be by Bryan Meyer, La Crosse County Surveyor. Bryan's presentation is entitled, "World's Most Elaborate Survey Marker at Wisconsin Capitol." As Bryan explains in his presentation abstract,
The corners of the Public Land Survey System (PLSS) serve as the framework for land ownership in Wisconsin. Original establishment of those markers in Wisconsin occurred between 1832 and 1866. Wisconsin's state capitol building was built directly over one such marker. The corner common to Sections 13, 14, 23 and 24 T7N, R9E lies at the center of the capitol rotunda. In 2007, Madison area land surveyors re-established an accurate position for the corner within the capitol. This group then received permission to install a brass disc at the corner location in a lower level floor of the capitol building. In this session, you will learn about the history of the PLSS in Wisconsin, look at the field notes from the survey crew that originally set this corner in December of 1834 and take a "field trip" to view the marker.
The photo below shows Bryan on the floor of the Capitol next to the brass maker. As you can see, Bryan is definitely someone who enjoys his work!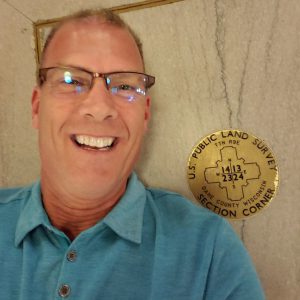 Not only is the marker centrally located in the Capitol, but the wings of the Capitol are also aligned to the section lines dividing sections 13, 14, 23 and 24. See the screenshot from the Survey Control Finder app, below.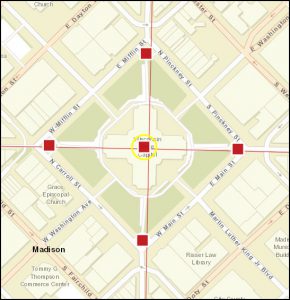 Bryan's abstract notes that the corner was originally set in December, 1834, nearly two hundred years ago. The original field notes for the survey, which are available online through University of Wisconsin Digital Collections, describe a post being set for the corners of sections 13, 14, 23 and 24 by surveyor Orson Lyon. Two bearing trees were used to tie to the corner location, both Burr Oaks. The land in the area is described as "rolling and second rate."
When the location was surveyed in 1834, Wisconsin Territory had yet to be created, and obviously no building existed at the site of the current Capitol. Construction on the first State Capitol began in 1837. Work on a larger replacement building began in 1857 and concluded in 1869. This building was destroyed by fire in 1904, shortly after a Building Commission was established to assess whether a third, larger Capitol should be built. Construction on the current State Capitol began in 1906. More information on the Capitol building can be found here.
WLIA does not meet in Madison every year, so those of you with an interest in this field trip should definitely plan to attend.