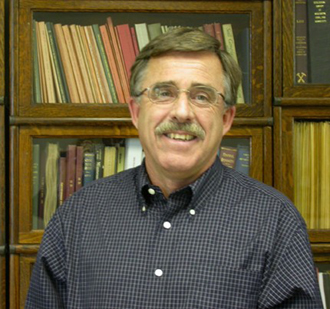 Jamie Robertson (photo by Mindy James)
For this issue we spoke with Wisconsin's State Geologist and Director of the Wisconsin Geological and Natural History Survey. James "Jamie" Robertson has held those dual posts since 1993 when he moved over from being second-in-command of New Mexico's state survey.
You have been our state geologist for ten years now. What was the biggest change for your organization during that period?
Incorporating the power of computers has been a huge change for us. It has been a continuous process, and both a blessing and a challenge. We have invested significant resources in the equipment, software, support staff, and training for our entire staff.
Computing has affected how we do much of our work, in the field as well as the office. The capacity we now have to manipulate large sets of geological data, both statistically and visually, is very helpful. The same power is applied to the production of maps.
We have had to make progress with computers in stages, alternating periods of improvements and upgrades to the underlying infrastructure with periods of increased productivity using these new tools. For us, this works better than constant change.
How has digital mapping affected the way you provide geological information?
Maybe I should start by saying that geological maps have always been works in progress; this will continue to be the case. Much of what we seek to understand is hidden from view so we have to rely on samples from specific locations such as a few surface exposures and records from many drilled water wells. There is always more to know.
While the printed map is one of our traditional products — especially accompanied by explanatory material prepared by a professional scientist — our more sophisticated users are now asking for more detailed and more specific digital information and to be able to manipulate the data more easily.
We have always been concerned that clients not stretch the information we provide — literally by enlarging a map to a different scale, or figuratively by taking information out of context. Both practices can lead to unsupported conclusions.
So we have entered into a this new digital environment with a somewhat cautious feeling, more aware than ever that our customers need to understand the limitations of the data.
Your office has recently released a series of products on CD-ROM. How do those items fit into your publication strategy?
Generally these are digital equivalents of products we have published in print previously — both maps and reports. For maps we provide two formats, both PDF image of the original paper copy as well as GIS versions where the component map layers are separated. We expect to produce more of these types of publications, although not at an accelerated pace since field work and geologic analysis still make up most of the work. That effort is determined by the size of our base budget plus cooperative projects with various partner organizations. As everyone knows well, these sources of funds have been shrinking lately.
Eventually will you abandon printed map products that result from new geologic studies?
No, we will continue to print new maps. Again, these won't come at any faster pace than in the past, but well-designed, attractive maps are still appealing to many people. Many of our cooperative projects include a printed map as a deliverable.
A related factor here is that many of our maps are fairly large. Even if we provided high-resolution digital image files, most people do not have access to color printers that can handle the large paper sizes.
One new approach is that we are now producing some maps on demand. That is, instead of going through the complete process ending with hundreds of printed maps, we are making our own color plots in-house. The quality of papers and durability of inks has improved to the point where this is practical.
In this digital age, are geologists becoming more involved in map design and production?
This varies. I have heard organizations similar to ours say that they have the process so automated that cartographers are no longer needed. I don't agree with that sentiment.
Our cartographers who handle the design and final production of maps are highly trained in ways that our geologists never will be. Their expertise is crucial to producing maps that communicate effectively. As in so many other areas, the computer is only a tool.
The U.S. Geological Survey has embarked on a goal in this new century that they are calling "The National Map". What are your views on this?
So far it looks to me like they have created half of a beast. We have long recognized that a topographic map sheet which is only rarely updated loses value as it ages. Making it possible for a citizen to put together a fresher map by assembling up-to-date layers maintained by a variety of organizations is appealing.
However, what reliable local system will distribute the resulting maps? Remember, most people don't have plotters to produce maps as large as traditional topo map sheets.
A related issue is that people have begun to expect to find most anything on the Internet, and to access it free. A critical funding source for map updates used to be sales of paper maps. There is a funding gap here, and it affects the USGS just like it does us.