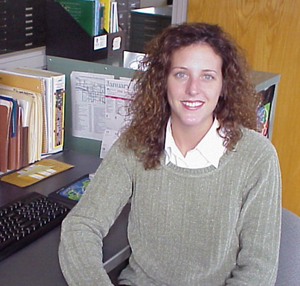 Jaime Martindale at her desk at the Robinson Map Library (photo by Bob Gurda)
Jaime Martindale has been appointed to head the Arthur Robinson Map Library located in Science Hall on the University of Wisconsin-Madison campus. She started her new position on November 10.
Jaime comes to Madison from the Mann Library at Cornell University in Ithaca, NY where she was the Public Services Librarian for GIS and spatial data. In that position, she served as project manager for the university's Geospatial Information Repository which is a collection of state and local digital spatial data resources.
Prior to her work at Cornell, Jaime was a student at UW-Milwaukee, receiving a Bachelors Degree in Biological Aspects of Conservation and a Masters Degree in Library and Informational Sciences. While a student at UWM, Jaime worked for two-and-a-half years at the American Geographical Society Library, a large reference and research library devoted to geography and cartography.
The Arthur Robinson Map Library, a sub-unit of the Department of Geography, provides a comprehensive collection of cartographic materials (over 500,000 maps and aerial photos) to support teaching, research on the Madison campus, and for availability to the general public. The Map Library is named for Arthur H. Robinson, the well-known cartographer who taught on the campus from 1945 until he retired in 1980.