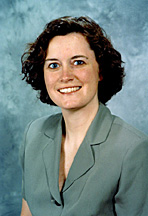 Alissa Bails
I recently talked to Alissa Bails, GIS division manager at R.A. Smith & Associates in Brookfield, about her experience as President of the Wisconsin Land Information Association (WLIA) for 2004-2005. Anyone who knows Alissa can attest to her energetic and enthusiastic support for WLIA. We all appreciate her hard work!
The past year was a busy one for WLIA. Can you summarize some of the major accomplishments?
The year seemed to fly by, but we made progress in several important areas. We worked hard to eliminate the sunset on the Wisconsin Land Information Program (WLIP), and based on recent budget proposals we've seen from the governor, it appears we were successful.
We also put a lot of effort into cultivating our relationship with the Wisconsin Department of Administration (DOA). Several of us spent a lot of time in Madison meeting with a variety of DOA administrators, and I think having many of our recommendations accepted is evidence that this was time well spent. We also hired a new lobbyist, Peter Kammer from Essie Consulting Group, in January of 2005 to help us stay informed of issues in state government.
It was also a busy year for the members of our standing committees and three task forces. Ted Koch from the State Cartographer's Office is chairing a coordinate system task force that is evaluating the design of the county coordinate systems in Wisconsin. We also created an emergency management task force led by Chris Diller from the Wisconsin Department of Military Affairs.
All things considered, it was a great year, and I look forward to continued progress as I hand the reigns over to incoming president Ken Pabich from Calumet County.
For you personally, what accomplishments are you most proud of?
I'm especially proud of the progress we made with DOA over the past year. As you know, the politics of working with state government can sometimes be overwhelming. But that said, we made some great strides on behalf of the land information community. I'm very glad DOA asked for our input last summer when they were evaluating how to the handle the sunset of the Wisconsin Land Information Program. Unfortunately, the timeline we had to respond was short, and we were faced with either providing no response, or the best response we could in the time we had. I wasn't thrilled about the timeline, but we had to play the hand we were dealt. Although it wasn't a perfect situation, it's good that we were invited to provide input.
I'm also very excited about the new scholarship fund we established at the 2005 annual conference in Green Bay. Our silent auction generated $2,100, which is more than double the $1,000 we were hoping for. As an organization, it's our responsibility to help nurture new professionals, and the scholarship fund is one small way for us to do so.
What were some of the more challenging aspects of your presidency?
Building a consensus on certain issues in a professional organization the size of WLIA is sometimes very challenging, if not impossible. We have a lot of highly educated and dedicated people in our organization, and every single member has a right to their own opinion. Because we sometimes have such a diversity of opinions, it's difficult to pick a direction or take a stand on an issue in way that doesn't upset somebody. This shouldn't be looked on as a bad thing though– a diversity of ideas is what makes WLIA great!
What issues do you see WLIA facing over the next year?
Maintaining our relationship with DOA is a key area we need to continue working on. In order to advance the land information program, it's in the best long-term interest of our organization to be a partner with DOA. When we offer creative insight and advice, DOA will continue coming to us for assistance.
Likewise, I think a big area of uncertainty, but also opportunity, is the role WLIA will play in statewide coordination activities with the Land Information Board and Land Council likely disappearing later this year. We have the opportunity to step up and have even more influence at the state level.
Finally, a big change we started looking at last year is how we communicate with our members. In particular, the cost of printing and mailing has grown to be a considerable expense, so I expect most if not all of our communication in the future will be electronic. This puts an unreasonable burden on our volunteer webmaster Ron Voigt, so we recently began looking at our options for web design and hosting. I encourage WLIA members to send ideas to our communications committee–they need your help!
Do you have any thoughts on how WLIA members can help make the organization even stronger?
People can help by stepping up and volunteering to serve on committees. Even better, volunteer to lead a task force. This is the single best way to make something happen if you feel strongly about an issue. Historically a lot of committee energy has come from within the board of directors and a consistent group of very dedicated individuals. Looking toward the future, it's my hope that some of the "burden" can be shared among a larger group of people.
I also feel it's important to diversify our membership into other areas. For example, it would be great if we could get even more developers, planners, emergency managers, and police to participate in WLIA. Likewise, it would also be nice to have more representation from municipalities. If every member successfully invited just one colleague to join WLIA, think of the impact we could have as an organization.
On a personal note, what led to your interest in running for the WLIA presidency?
I get a lot of my inspiration from my dad, who was a civil servant in Michigan. While growing up, the idea of giving back to your community and profession was ingrained in my mind. Since moving here in 1999, I've been looking for ways to better understand issues in Wisconsin. As a relative newcomer, I had to soak up a lot of information very quickly as president-elect, and then president. I learned a lot, especially on state government operations. It was a great experience, and I sincerely appreciate the support I received along the way!
What words of advice do you have for the incoming president, Ken Pabich?
Don't be afraid to ask for help! WLIA has a lot of energetic people who are willing to go the extra mile and help out whenever they can.
Special thanks go out to Alissa for her service as WLIA President. She can be reached at (262) 317-3382, or via e-mail at alissa.bails@rasmith.com