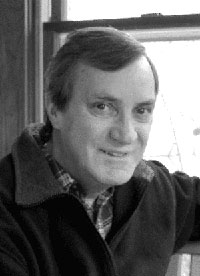 David Woodward
Professor David A. Woodward, Ph.D., a renowned historian of cartography and educator, was awarded posthumously the prestigious Earle J. Fennell Award presented by the American Congress on Surveying and Mapping (ACSM) in recognition of "outstanding contributions to Surveying and Mapping Education." Mrs. Rosalind Woodward accepted the award on her husband's behalf at the ACSM Awards Ceremony held during the ACSM/CLSA/NALS/WFPS conference in Las Vegas, Nevada, on March 19, 2005.
Professor Woodward's association with ACSM dates back to the early 1980s, when he served as Director for the American Cartographic Association (now Cartography and Geographic Information Society, CaGIS) from 1980 to 1982. His involvement with CaGIS and ACSM continued in the following decades through his contributions to the journal published by CaGIS ( American Cartographer (1974-89); Cartography and Geographic Information Systems ("Science," from 2000) journal, 1990 to present). He was both a contributor to the journal and a long-standing member of the Editorial Board.
Throughout his career, Professor Woodward held teaching positions at Northwestern University, University of Chicago, University College, London, and University of Wisconsin-Madison. His distinguished career as a professor of geography and cartography culminated with the position of Arthur H. Robinson Professor Emeritus of Geography at the University of Wisconsin-Madison between October 2002 and August 2004.
He pursued his "calling" as a fellow of the British Academy through a Guggenheim fellowship awarded by the Wisconsin Alumni Research Foundation, and as a senior faculty member of the Institute for Research in the Humanities. Perhaps he will best be remembered as the co-founder and longest-serving (1980-2004) and most accomplished Editor of the award-winning History of Cartography series.
The impact Professor Woodward had on the profession of surveying and mapping, and education related to it, is well summarized in the letter submitted with his nomination:
"David Woodward's exceptional career is demonstrated by his publications, academic instruction and awards. His love and dedication to maps was life-long—from topographic maps of Africa to studies at the University of Wales and University of Wisconsin-Madison—to his research of the history of cartography at the Newberry Library and leadership of The History of Cartography Project. During this time he was a leader and educator to many students, supervising nearly three dozen Masters and Ph.D. students. His numerous publications and public lectures have advanced mapping education both academically and socially." [Gregory Allord, U.S. Geological Survey]
Prof. Woodward is remembered as a world-renowned historian of cartography, dedicated educator, and a distinguished arts scholar. In life, Prof. Woodward was recognized by a five-year senior membership at the UW Institute for Research in the Humanities, the UW-Madison Hilldale Award in the Arts and Humanities, and the College of Letters and Sciences Career Services Award, among many other distinctions. Presented posthumously, the ACSM Earle J. Fennell Award to Prof. David Woodward specifically recognizes his lifelong contribution to education in the field of geography and cartography.
The American Congress on Surveying and Mapping is proud to recognize Professor Woodward for his life, and for his work, with the Earle J. Fennell Award for 2005.