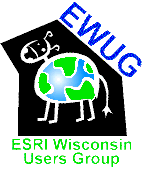 The 2005 ESRI Wisconsin Users' Group (EWUG) conference is scheduled for November 10-11 in Green Bay at the Best Western Midway Hotel. Each year the conference contains a mix of vendor presentations, and speakers from a variety of government and non-profit organizations. Talks are typically technically-oriented, and ESRI representatives are always on hand to answer questions, and give the latest update on upcoming software releases.
The conference organizers are looking for presenters, and need your help. If you've implemented an interesting application or process using ESRI products, consider sharing what you learned with others. Likewise, "how-to" presentations are also encouraged. Abstracts including a presentation title, brief description, and your name, title and affiliation should be submitted to David Haines no later than August 5th, 2005.
Vendors interested in exhibiting at the event should contact Emily Champagne.
Formed in 1999, the EWUG is a statewide interest group that meets to discuss ESRI software technical issues, conduct seminars, share ideas, and network with others.
For more information visit www.ewug.org.