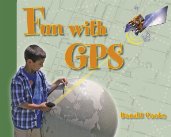 As part of my recent GPS kick (see related article), I picked up a copy of Fun with GPS by Donald Cooke. Aimed primarily at the consumer market, Fun with GPS is best summed up this way: a guy dreams up wacky uses for GPS, then tells the rest of us how he did it.

Seriously though, in addition to the "unusual" applications he describes, Cooke provides a nice overview of GPS concepts, various helpful hints, and introduces the reader to tools like ESRI's ArcExplorer.
Anyone who deals with GPS on a professional basis probably won't learn anything new in the book. But seeing some of the unique applications, and reading how Cooke explains the lingo in common language could be very useful to borrow when explaining GPS to a non-technical audience.
Unfortunately, finding the book in your local library may be tricky. When I checked, it was not available at any Madison-area libraries. Published by ESRI Press, it currently sells for about $14 on Amazon.com.