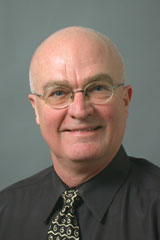 URISA (Urban and Regional Information Systems Association) has announced that Bill Huxhold, Professor and Chair of Urban Planning at UW-Milwaukee, has been inducted into the GIS Hall of Fame.
URISA established the GIS Hall of Fame in 2005 to recognize the most esteemed leaders of the geospatial community, who have made significant contributions to the advancement of the field. Other inductees include Edgar Horwood, Ian McHarg, Roger Tomlinson, Jack Dangermond, Nancy Tosta, the Harvard Lab, Gary Hunter, Don Cooke, Michael Goodchild, Will Craig, Carl Reed, C. Dana Tomlin, and Barry Wellar.
In the 1970s and 1980s, Huxhold led the City of Milwaukee's efforts to build one of the nation's first municipal GIS's, and he is recognized nationally as a seminal figure in the early development of GIS in local government. His 1991 book entitled "An Introduction to Urban Geographic Information Systems" is one of the first and most influential GIS textbooks. Huxhold joined the faculty in Urban Planning at UW-Milwaukee in 1991, where he currently teaches courses in GIS, administers the GIS Certificate Program, and chairs the UW-Milwaukee GIS Council and the Urban Planning department. Professor Huxhold was also instrumental in efforts to develop professional GIS certification, now organized under the auspices of the GIS Certification Institute.
The full press release can be found here.