Wisconsin lost a friend, mentor, and land information pioneer with the passing of Dr. James L. Clapp on March 31, 2007.  In addition to touching the lives of many students while at UW-Madison and the University of Maine, he was widely known as the Chair of the Wisconsin Land Records Committee (WLRC) from 1985-1987, which led to the creation of the Wisconsin Land Information Program.
The staff at the SCO wishes our sincerest condolences to Jim's family.   A reprint of the full obituary follows below.

August 13th, 1985 ceremony at the Capitol: Gov. Tony Earl
announces the creation of the Wisconsin Land Records
Committee. (L-R: Arthur Sacks, Bernard Niemann, Jr., James
Clapp, Governor Tony Earl.)
REEDSBURG WI:   James L. Clapp passed away at age 74 on Saturday, March 31 after a long struggle with Alzheimer's and Parkinson's disease.  Jim was born on March 14, 1933 in Madison, Wisconsin to Don and Estelle (Anderson) Clapp.  He graduated from West High School in 1950, where he excelled in sports and academics.  In 1961, he married Susan Randolph with whom he raised three sons, Lee (Judith), Len (Jennifer), and Don.  He received a B.S. in Naval Science and B.S., M.S., and Ph.D. degrees in Civil Engineering (1956-64), all from the University of Wisconsin – Madison.  He served as a First Lieutenant in the U.S. Marine Corps as an Engineering Company Commander (1956-59), Instructor and Research Assistant at UW-Madison (1959-63), and Assistant, Associate, and Full Professor of Civil Engineering at the UW (1964-78).  Jim conducted ice-flow studies in Antarctica (1961-62 and 1967-68), for which he was awarded the Congressional Medal for Antarctic Service.  He became an Emeritus Professor in 1995.
He and his family moved to Maine in 1978 when he was appointed Dean of the College of Engineering & Science at the University of Maine at Orono (UMO). Following his return to UW-Madison in 1984, he served in a broad range of capacities.  He chaired the Department of Civil and Environmental Engineering (1986-90), and also served as the Director of the Center for Land Information Studies.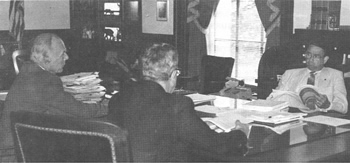 Governor Tommy Thompson (right) is briefed on the
conclusions of the WLRC in June 1987 by James
Clapp (left) and D. David Moyer (center).
Jim engaged in numerous professional service activities during his career.  Among these was his appointment by the Governor as Chair of the Wisconsin Land Records Committee (1985-87), whose work became a national model for land information modernization.  He also served as President of the American Congress on Surveying and Mapping (ACSM) during 1988-89.
Jim had a vision and passion for interdisciplinary research and teaching activities during his career at UW and UMO and was a pioneer in remote sensing education and research.  He was a member of the first Executive Committee of the interdisciplinary Institute for Environmental Studies (IES today is the Gaylord Nelson Institute of Environmental Studies). He served as Director of the Environmental Monitoring and Data Acquisition Group, Institute for Environmental Studies at the UW (1970-78). 
Jim received numerous awards for teaching and research excellence, including the Steiger Award for Outstanding Teaching (1968), Polygon Outstanding Teacher, UW College of Engineering (1972, 1973, 1975, 1985), New England Section ACSM Outstanding Educator (1977), ACSM National Fennel Award for Outstanding Educator (1981), and ACSM Presidential Citation for Meritorious Service (1987, 1989).  He also received the "Friends of Land Records" Award from the Wisconsin Land Information Association.  Many of the students he taught and mentored have gone on to be highly successful professionals in the area of geospatial information science and engineering.
Jim was an avid fan of traditional jazz and played "tub bass" and banjo (but would "stop playing for a dollar").  He was also a master garden-composter and wood chopper.  He is survived and will be missed by his wife Sue, sons, sister Jo-Ann Sivley and many nephews and nieces.
Teaching always remained Jim's primary love and he has chosen to continue to teach even after death by contributing his body to the UW Medical School. No formal memorial is planned since his friends, students and colleagues are spread so far and wide.  At present a web-site is being considered where memories may be submitted and shared.
Please, no flowers, but contributions would be appreciated to the Civil and Environmental Engineering Department via University of Wisconsin Foundation, 1848 University Avenue, PO Box 8860, Madison WI 53708-8860, Attn: Deb Holt; or to the Madison Jazz Society, PO Box 8866, Madison WI 53708-8866.
What did the fire-fly say as she backed into the lawnmower? "I am delighted, no end."