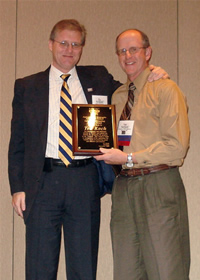 Ted Koch (right) with Cy Smith,
past-president of NSGIC.
(Photo by Bill Burgess.)
State Cartographer Ted Koch was honored with a Lifetime Service Award at the 2008 National States Geographic Information Council (NSGIC) annual conference in Keystone, Colorado on September 9th. The award honors Ted not only for his 17 years of service to NSGIC, but also for a combined service of nearly 35 years to the citizens of Wisconsin and New York. Bestowed only twice before in NSGIC's history, the Lifetime Service Award is one of the organization's most prestigious awards.
Ted is a founding member of NSGIC, having joined in 1991 shortly after assuming the role of State Cartographer in Wisconsin. After 12 years of supporting NSGIC's goals, Ted served on NSGIC Board of Directors from 2003 to 2005. Among many accomplishments for the organization, Ted is credited with originating a concept called "Imagery for the Nation," which has become a centerpiece of NSGIC's advocacy agenda.
Some brief highlights of Ted's service to Wisconsin include: WI Land Information Board (WLIB) for 14 years (1991-2005; Chair 1999-2005), WI Land Council (1999-2005), WI Land Information Association (WLIA) Board of Directors (1992-1994), and the WLIA Coordinate Systems Task Force, (Chair 2003-2006). Currently, he is spearheading a team seeking to implement a GIS coordination council in Wisconsin.
Prior to coming to Wisconsin, Ted worked for the New York Department of Transportation for 17 years, where he served in a variety of roles.
NSGIC is an organization committed to efficient and effective government through the prudent adoption of geospatial information technologies (GIT). Members of NSGIC include senior state geographic information system (GIS) managers and coordinators.