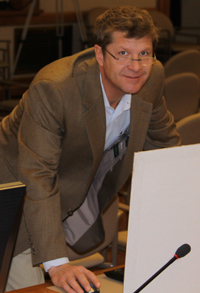 Erik Mickelson, formerly a GIS Services Architect with the Wisconsin Department of Administration (DOA) Geographic Information Office, recently started in a new position at the Office of the Commissioner of Insurance (OCI). In his new role, Erik will be developing a new generation of core business applications for the agency.
Erik was a relative newcomer to the geospatial world when he started working with former GIO David Mockert in 2006. Since that time, he became a key player in helping foster fledgling initiatives both in the GIO's office, and the Wisconsin Geographic Information Coordination Council.
Best wishes go out to Erik in his new job!