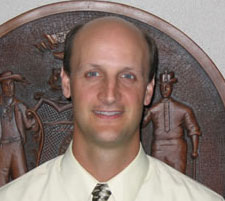 Dave Mockert, state Geographic Information Officer since September 2005, announced his plans today to leave state government for a job with GeoAnalytics of Madison.
Dave led and participated in a wide variety of efforts over the past two years, most notably the development of a statewide GIS strategic plan in 2006, and the current initiative to create a geographic information coordination council in Wisconsin. Less visible to those outside Madison was Dave's significant involvement in fostering better cooperation and enterprise GIS initiatives among state agencies.
Oskar Anderson, the WI Department of Administration Chief Information Officer, indicated during a Wisconsin Enterprise GIS team meeting that he intends to re-fill the GIO position. The timeline for the recruitment is unknown at this point.
Dave's presence in statewide activities will be sorely missed, but I wish him the very best in his new adventure!