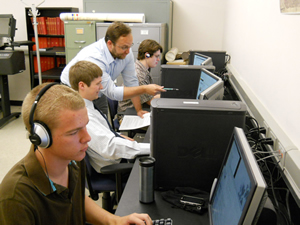 Students Justin Porst, Tyler Caulum and Adric Preuschl
work on computers at UW-Whitewater's GIS lab
in Upham Hall, while program manager Alvin Rentsch
offers direction. (Source: UW-Whitewater)
UW-Whitewater is currently administering a three-year, $5.9 million grant from the U.S. Economic Development Administration. This "State of Ingenuity" project focuses on job growth and investment in six counties along the Wisconsin-Illinois state line and allocates $500,000 to create and operate a GIS Center at UW-Whitewater.
Director Dr. Eric Compas and Manager Alvin Rentsch describe the goals of the new center in a recently-published article "Mapping opportunity: GIS Center opens at UW-Whitewater." Fundamentally, the GIS center specializes in using GIS to provide web-based mapping and analysis spatial analysis services and other custom analysis for business and other clients. Undergraduate students at UW-Whitewater will assist on real-world projects for clients.
Congrats to Eric and Alvin on the opening of the new Center!
Source: UW-Whitewater