Last week at the Minnesota GIS/LIS conference in St. Cloud, MN, I attended a session presented by Chris Pouliot, one of the main developers behind the popular DNR Garmin desktop application developed and maintained by the Minnesota Department of Natural Resources (MN-DNR). DNR Garmin is designed to transfer data between common GIS formats (e.g., Esri shapefiles) and recreation-grade Garmin GPS receivers. Chris announced a major new version of DNR Garmin is in the works, with a public released planned for early 2012.
While I've personally used DNR Garmin for several years, I honestly didn't have a sense for the large following behind the application. As you would expect, it's used extensively within MN-DNR to support the mapping of water access sites, hunting violations, building locations, and much more, but it's also used by federal agencies including the National Park Service, and many other users from all over the world.
Now Open Source
Perhaps one of the most noteworthy tidbits I got out of the session was the movement to make DNR Garmin an open source project. Anyone may now participate in the project and help develop and maintain DNR Garmin, which hasn't had a major update since 2008. Chris mentioned they've had many requests for updates over the years, so the move to open source will allow a wider community of developers to add enhancements to the software.
Chris cited a number of reasons for the recent push to upgrade to DNR Garmin. First and foremost is the simple fact the software hasn't been updated since 2008. As a result, it is not completely compatible with Esri's ArcGIS 10.x. Another driver was the lack of support for Visual Basic 6—the development language used for previous versions of DNR Garmin. In addition, Garmin has released a number of new GPS receivers since 2008, and updates are needed to ensure compatibility with these newer devices.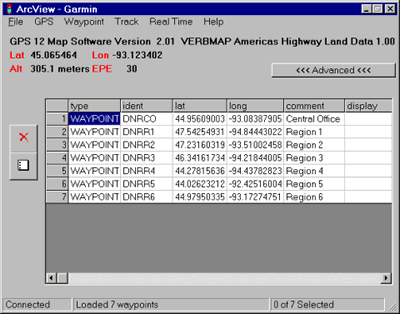 New version, new technology
The project team is completely re-writing the application in C#, while utilizing code from a number of other open-source projects such as GPS Babel, Proj.4, and GDAL. The goal is to keep the user interface as close as possible to the existing version 5 interface, so the update doesn't force a major re-training for users. The effort involved in re-writing nearly 15,000 lines of code developed over 10 years is not trivial, which in part drove the move to make the project open source.
If all goes as planned, DNR Garmin 6.0 will be available for testing late in 2011. Chris hopes to make v6.0 available during early 2012.
To stay in touch with the latest on DNR Garmin, I suggest joining the e-mail listserv, or visiting the project Wiki. Check out the DNR Garmin Web site to download the current version, and learn more about its capabilities.