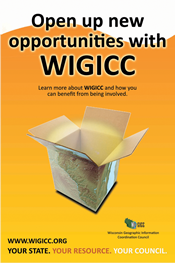 The Wisconsin Geographic Information Coordination Council (WIGICC) is looking for representatives in seven different sectors. One position is available in each of the following:
City, Town, and Village Government
State Government
Academic
Private Business
Regional Planning Commission
County Government
Non-Profit
Nominations are due by July 23, 2012 for the two-year positions that are slated to begin in September. Council members are elected by members of the stakeholder network registered within that sector. All registered members of a given sector may vote for Council representation in that sector.
Council members are asked to represent the views of their sector to the best of their ability, to participate in the activities of the Council including meetings and topical teams, and to communicate the actions of the Council to their sector.
For more details, visit the WIGICC Web site, or contact Howard Veregin at (608) 262-6852.