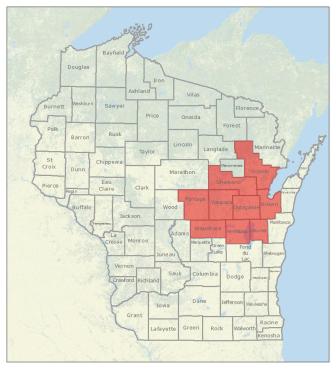 PLSS layer pilot project counties
In 2011 the State Cartographer's Office (SCO) announced a new pilot project to develop an updated and more accurate Public Land Survey System (PLSS) digital dataset for the state of Wisconsin. The intent of this project is to develop and test methods to aggregate accurate local data to update the statewide Landnet dataset produced by the Wisconsin Department of Natural Resources in the 1990's.
At this time we have completed the base data model to house the primary survey corner point data that we have received from our nine pilot counties. For these counties we have imported over 22,000 local corner points into the database. We designed our data model to allow the input of local data at the most basic unit (i.e., x and y coordinates) with accompanying metadata and attribute information. In addition the data model accommodates all DNR Landnet points (over 63,000).
We have encountered many challenges in our attempt to coalesce different local datasets into a single comprehensive database that will serve statewide interests. A primary goal of the pilot project is to define and test data integration methods that account for the existence of multiple coordinate values for any given corner point. Multiple coordinates occur in several contexts, including separate surveys being performed for the same logical corner point over time or across a county boundary.
For the purposes of creating an authoritative statewide view of PLSS corners, it is necessary to determine whether coordinates that are in close proximity to each other represent different representations of the same corner (sometimes called the "pincushion effect") or are truly different points (e.g., a meander point that is close to a section corner). Initial tests show that these distinctions will be very difficult to make without additional descriptive corner data from the counties. This also has implications for our goal of developing a statewide indexing system based on the Romportl method.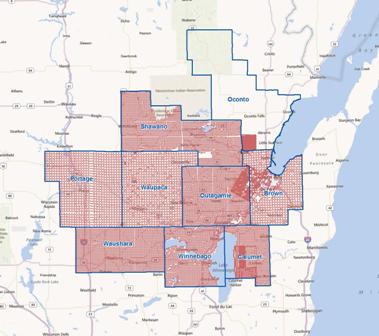 PLSS layer pilot project local points
We are currently in the process of requesting additional line and polygon features from our pilot counties. We have also requested additional corner point descriptive data if available to help identify corners by type, i.e. meander, township, section, non-PLSS, etc. With improved corner point descriptive data and additional spatial features we are hopeful we can meet our project objectives. Once we clear our present hurdles and complete indexing, we intend to focus on building a grid network of polygons beginning at the quarter-quarter section and continuing up to the township level from the local point data.
The PLSS pilot project is scheduled for completion in mid-2013.
Please visit the SCO Web site for more information or contact Brenda Hemstead or Timothy Kennedy. To access online PLSS corner point information, visit our PLSSFinder application. PLSSFinder is designed as a central point of access for locating PLSS corners for various counties with related attribute information, metadata, and in many cases, direct linkage to county Web sites for their corner tie sheets.