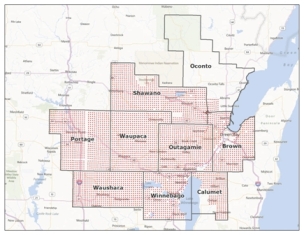 Section corners in study area.
The first step in this project was to create a data model compatible with FGDC standards while also including attributes and information appropriate for a diverse group of stakeholders. The results from a stakeholder survey in 2011 yielded additional attributes and characteristics, which we incorporated into our conceptual data model to maintain and manage PLSS corner points, metadata, and resource information for applicable points. Considering that PLSS points are the foundation for cadastre data in the state, we also designed our data model to be replicable for other statewide cadastre data aggregation. During 2012, we completed the base data model and began testing a number of methods to ingest data from various county models into a single, statewide data model. While we had hoped to employ a more automated data import process, we learned along the way that it was easier to use a combination of manual and automated methods. By January of 2013, we successfully imported approximately 5,500 county PLSS section corners into the geodatabase.
During this project, we have run into some hurdles that have given us cause to reconsider our original expectations. The original data model includes a statewide indexing system, so that every point contains a unique identification number, based on the Wisconsin Corner Point Identification System created by Mike Romportl (circa 1993). We planned to supplement this indexing system with a corner point number so that every physical monument or ground location could be uniquely identified; however, as not all county data in our study included that level of description, we would be required to perform a manual inspection of data sheets to determine which points are attached to a physical ground location. We have since put that objective on hold finding that the implementation resources required outweigh the usefulness.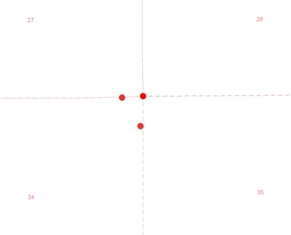 Example of the pincushion effect.
In our original data model, we planned to accommodate a "pincushion" effect where we expected multiple corner points, each with individual coordinate pairs, at a single corner (e.g. multiple points at a single section corner location). We were pleasantly surprised as we inspected the county data in our study area to find very little of this pincushion effect. However, while we originally designed our data model to accept only the minimum x, y data to locate a point, we discovered the critical importance of point descriptive data (e.g. witness, section, township, meander etc.) to allow for more advanced selection and processing functions. We hope to work with our county partners to determine if more information is available.
Next, we intend to import township, quarter section, and quarter-quarter section corners into the geodatabase. The pilot project will conclude in the summer of 2013 with recommendations for subsequent phases, which include the creation of line and polygon features from corner points, along with implementation at the statewide level. You can view the presentation slides that were presented at the WLIA Annual Conference here. Anyone interested in learning more about this project please contact Timothy Kennedy or Brenda Hemstead.