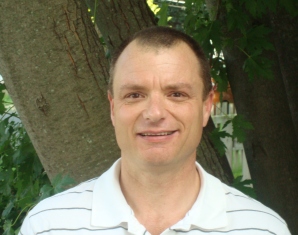 Tim Kennedy, who has been with the SCO since 2010, is starting a new position at UW-Stevens Point this fall. Tim has accepted a tenure-track position as an assistant professor in the Department of Geography and Geology at UW-Stevens Point. He will be leaving the SCO at the end of August to take up his new responsibilities.
Tim has been involved in several key SCO projects, including our Public Land Survey System pilot project, which he has reported on at conferences throughout the state. Tim also developed a number of funding proposals to update Wisconsin's land cover map, a topic of particular interest to him. He served as a representative on WIGICC, and actively participated in Geospatial Alliance activities, including establishing a campus ArcGIS Server user group. One of Tim's special talents is research and writing; he authored a number of SCO publications, delivered presentations at meetings and conferences, and developed new content for the SCO website.
UW-Stevens Point is a natural fit for Tim, as he holds a Master of Science degree in Natural Resources-Land Use Planning from that institution. Prior to joining the SCO, Tim worked for the Wisconsin Department of Natural Resources and the Center for Land Use Education at UW-Stevens Point. His PhD research at UW-Madison focuses on understanding parcelization as a precursor to land use change in rural areas of the state.
On behalf of everyone at the SCO, I wish Tim all the best in his new position, and hope to work with him again in the near future!