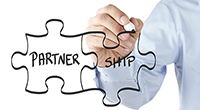 In mid-July, Howard Veregin and Peter Herreid announced the start of a new project aimed at enhancing geocoding and analysis capabilities for broadband data. The goal of the "LinkWISCONSIN EBM Parcel Mapping" (EBM) project is to build statewide address and parcel layers based on data provided by local governments. The effort is cooperatively managed by the SCO and Wisconsin Land Information Program at the Wisconsin Department of Administration.
Today we published a new Web site aimed at answering common questions about the project, how stakeholders can get involved, and more. As the EBM project progresses over the next nine months, this will be the go-to place for more information.
If you haven't heard about the project, I recommend you start with the "About the Project" and "Frequently Asked Questions" pages.
Visit the EBM site at http://broadbandmap.sco.wisc.edu. For more information, contact Howard Veregin at (608) 262-6852.
Note: This article was edited in January 2014 to reflect updates to the project name and rationale.