The 2014 Geospatial Summit, held last Thursday at UW-Madison, attracted over 150 attendees from locations around the state. Attendance was at an all-time high this year, surpassing the mark of 136 set in 2013.
The table below shows the affiliations of attendees. While primarily an academic conference, there is strong interest on the part of government agencies, private companies, non-profits, and the general public. Representatives from various UW system campuses were also present.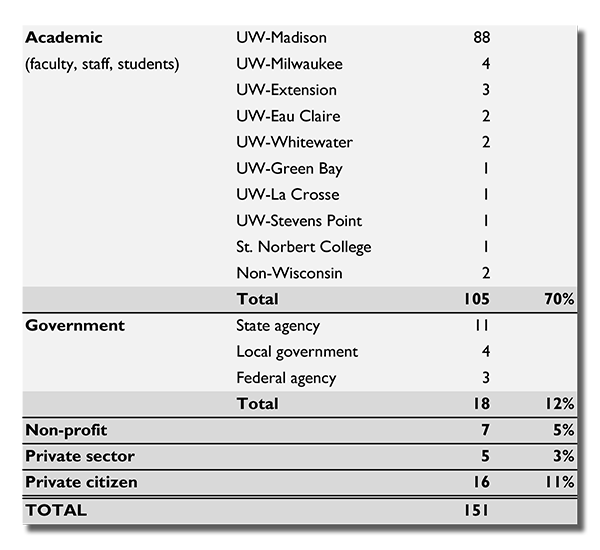 This is the fifth annual Geospatial Summit. The event began in 2010 as a small gathering at UW-Madison to discuss the future of the Geospatial Alliance – or "SIAC" as it was then known – a group of Madison faculty, staff and students involved in the field of GIS.
This year the Summit was expanded to an all-day program rather than a half-day. Program highlights included:
Eighteen research presentations by faculty, staff, students, and members of the state's geospatial community. For a taste of what was discussed, you can view the full program and abstracts

here

.
Three keynote addresses by Professors Steve Ventura, Annemarie Schneider, and Eric Compas. Videos of these addresses can be found on the SCO's YouTube channel.
A presentation and discussion with Len Kne, Associate Director of U-Spatial at the University of Minnesota. This session is also available as a video.
We want to take this opportunity to thank Professors Ventura, Schneider and Compas, Len Kne, and all conference presenters, whose time and efforts helped make the event a success. Likewise we would like to thank the event sponsors who helped offset the cost of the event for the SCO. This year's sponsors were the Robinson Map Library, the UW-Madison Cartography Lab, the UW-Madison Department of Geography, and a special thanks to the GIS Certificate Program for providing the refreshments.
For those of you unable to attend this year, we hope to see you at the 2015 Summit. Relevant information will be posted on the Geospatial Alliance and SCO websites as the date draws closer.