The 2017 UW-Madison Geospatial Summit will be held on Wednesday, April 26, 2017. The event will be at Gordon Dining and Event Center, 770 W. Dayton St. in Madison.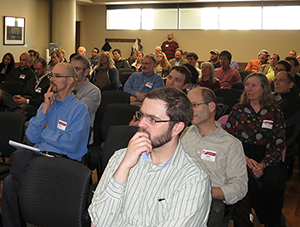 Details of the 2017 Summit are currently being worked on, and we will provide more information as the date draws nearer.
Last year, the Summit attracted almost 140 registrants from locations around the state. While primarily an academic conference, there is strong interest on the part of government agencies, private companies, non-profits, and the general public. As in the past, the 2017 Summit will feature presentations on current geospatial research, teaching, and service initiatives, as well as an educational roundtable and keynote speaker.
Abstract submissions for presentations will begin soon on the UW-Madison Geospatial Alliance website. Please plan to do a presentation if you have something interesting to share with the community. Presentations are welcome from staff, faculty, students, and members of the broader geospatial community off-campus.
Please stay tuned for further information on the 2017 Geospatial Summit.