Are you doing interesting research, or service activities using geospatial technology? If so, consider submitting an abstract for a presentation. Only 15 presentations will be available to showcase your work. Consider presenting at the Summit even if you are not affiliated with UW-Madison — we welcome participants from the broader geospatial community. You can easily submit your abstract when you register.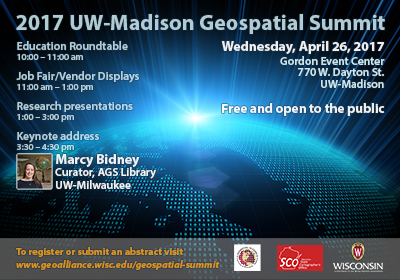 The 2016 Summit attracted almost 140 registrants from locations around the state. While primarily an academic conference, there is a strong interest on the part of government agencies, private companies, non-profits, and the general public. As in the past, the 2017 Summit will feature presentations on current geospatial research, teaching, and service initiatives, as well as an educational roundtable and keynote speaker. The Geospatial Summit is free and open to the public!
Education Rountable (10:00am-11:00 am): A special roundtable session will kickoff the event from 10:00am to 11:00 am bringing together academics and professionals to discuss careers for women in GIS.
GIS Networking/Career Fair (11:00am-1:00pm): This event is an effort to build a bridge between students who use GIS, enthusiasts, and employers around the area offering connections to network, share research and technologies, and career opportunities.
Abstracts (1:00pm-3:00pm): Abstract submissions for sessions is now open. Please plan to do a presentation if you have something interesting to share with the community. Presentation are welcome from staff, faculty, students, and members of the broader geospatial community off-campus.
Keynote (3:30pm-4:30pm): This year the keynote features Marcy Bidney, Curator at the American Geographical Society Library. Details about Marcy's keynote will be featured soon.
For questions, contact Brenda Hemstead (hemstead@wisc.edu) or Howard Veregin (veregin@wisc.edu) at the State Cartographer's Office.