A cooperative, community-driven approach to culvert mapping is making headlines in Wisconsin. State Scoop, the leading media brand in the state and local government market, recently published a report on Jim Giglierano's (Wisconsin Geographic Information Officer) presentation to the National States Geographic Information Council (NSGIC). The article, published June 16th, highlights key success elements of the Wisconsin Coastal-Management Data Infrastructure project (or WICDI), of which Giglierano is a co-Principal Investigator.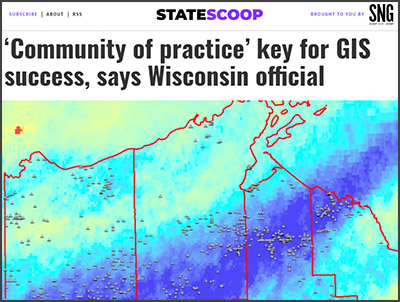 WICDI is focused on providing culvert mapping data, tools, and training to Wisconsin's coastal communities. Initiated in 2018, WICDI is funded by a NOAA (National Oceanic & Atmospheric Administration) Project of Special Merit grant through the Wisconsin Coastal Management Program.  WICDI was founded when heavy rainstorms and flooding between 2012 and 2018 opened the PIs' eyes to two things: one, the numerous key roles played by culverts in supporting infrastructure; and two, the need for more coordination and sharing of culvert data among agencies. As Giglierano discussed in his presentation, culvert data has historically been "a very siloed sort of state of affairs" in the Dairy State. WICDI's team has been working to counteract the silo effect by bringing community members from different towns, counties, tribes, and agencies together to generate culvert mapping solutions and best practices. 
One major solution, Giglierano reports at the NSGIC meeting, is the WICDI Unified Culvert Database.  This behemoth of a dataset with 250,000 points and counting was compiled and standardized by Genevieve Burgess and Melanie Kohls, the principal staff members working on WICDI. Additionally, they received significant help and input from Hayden Elza and Howard Veregin of the State Cartographer's Office, a partner on the WICDI project (Veregin is co-Principal Investigator with Giglierano). The team collected over twenty culvert inventories from Wisconsin's Lake Superior border counties (some extended statewide, or even across the Great Lakes). They then mapped all of the inventories' relevant attributes to a unique WICDI schema comprised of every field a culvert data collector could find useful, from physical descriptors to environmental variables like surrounding land use. The resulting database contains a broad regional dataset of culvert data in an accessible and easy-to-filter format. 
As State Scoop reports, the WICDI database is not intended to replace existing large-scale culvert databases, such as those run by the WisDOT or the Great Lakes Stream Crossing Inventory. Instead, WICDI's database will provide a valuable template and starting point for agencies planning to start collecting culverts, towns looking to create or maintain culvert data, and many other efforts. Giglierano states: "[the WICDI database] can be used for flood modeling, fish passage modeling, asset management, invasive species control or to qualify for funding from Federal Emergency Management Agency's disaster relief and hazard mitigation grants." Like culverts' roles in our infrastructure, the possibilities are myriad. 
For more information on WICDI, visit www.wicdi.org. Send questions and comments to WICDI's Outreach Specialist, Melanie Kohls.