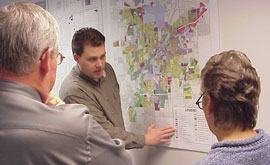 Scene from a SCO Map Design workshop.
More successful and confident map making is just around the corner – – that is, if you make plans to attend our next Map Design Workshop in Madison on Thursday, April 22.
This is a one-day introduction to principles and practices that underlie effective maps. We use a blend of presentations coupled with analysis of maps to convey the information.
The final part of the class is an exercise where groups of students apply their new knowledge in evaluating maps. You bring a map you have produced and it will be evaluated by others in the class. This is a great way to develop a more educated eye for effective maps.
Another consideration is that making maps takes time, and a confident cartographer can be more efficient. Spending just one day at this workshop is a good investment that will pay off in short order.
Let us know if you have any questions about this upcoming workshop, or bringing a workshop to your location!!!
If you are not able to attend on April 22 in Madison, the SCO can bring this workshop to your location. All you need is an average-sized conference room with walls on which maps can be posted, and a minimum of six students. In the past year the SCO has conducted on-site workshops on map design for the U.S. Forest Service in Milwaukee and for Waukesha County.