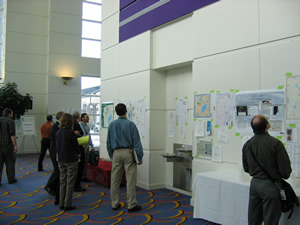 Attendees checking out the map and poster competition.
In this issue of the Mapping Bulletin, arriving a bit late with my apologies, we devote a fair amount of space to the Wisconsin Land Information Association annual conference held February 22-24 in Green Bay. If you read only one article this month (but of course I hope you read them all!), check out my report on the keynote address delivered by Wisconsin Chief Information Officer Matt Miszewski—he had some very important news for conference attendees.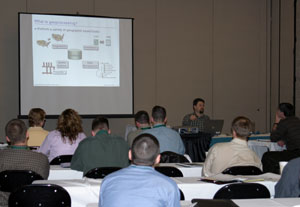 Introduction to Geoprocessing workshop.
As always, the WLIA conference was a big hit. Attendance was well over 500, making it one of the largest in recent years. Keynote speaker Larry McCarren opened the conference with some very entertaining Packer stories. I have to say though, I'm still squirming from his stunning demonstration of finger gymnastics with his permanently broken pinky—guess you had to be there. Seriously though, the conference theme of "Tackling Data Integration" was not just a catchy phrase that pays homage to the Green and Gold. Listening to many of the speakers, I sensed very real progress toward better utilizing geospatial technology in conjunction with other "traditional" IT systems used in many organizations.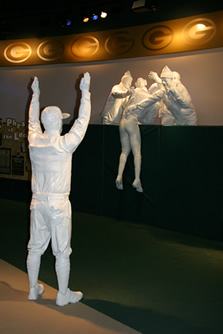 Lambeau Leap display at the Packer Hall of Fame.
Not surprisingly, wireless 911 was the topic of many hallway and lunchtime conversations. It's clear that a lot of people out there are struggling with wireless, so if this sounds familiar, you are not alone! I hope to bring you more news and information on this subject in future editions of the Mapping Bulletin as it unfolds.
During lunch on Wednesday the 23rd, Joanna Schumann (Grant Administrator from the WI Department of Administration) gave an update on the Wisconsin Land Information Program (WLIP), including a detailed report on the status of parcel mapping in Wisconsin. She also introduced Mike Friis, manager of the Resource Policy Team that oversees the WLIP, and Harald "Jordy" Jordahl, who was recently named executive Director of the Wisconsin Land Information Board. In addition, she provided details of the approximately $763,000 awarded to base-budget eligible counties by the WLIB for fiscal year 2005.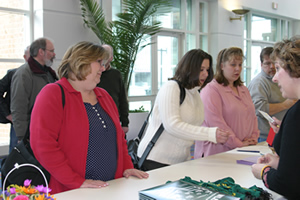 WLIA Registration
In other news this issue, State Cartographer Ted Koch gives his insight on the proposed changes to the WLIP. Adam Simcock provides a summary of Bill Holland and Lea Shanley's WLIA presentation on geodata licensing, and what's happening in Wisconsin.
Finally, I invite you to check out Aaron Stephenson's article on the WI Department of Natural Resources "Managed Lands" web application. The DNR developed this great resource using web mapping technology, and it's definitely worth a look.
Best wishes until next time,