The UW-Madison Department of Geography will host the second annual GIS Day Expo in Memorial Union on November 17th from 9am-3pm. The purpose of this event is to promote awareness of Geographic Information Systems (GIS) in today's society for research, planning, management, education, and decision-making in a wide-array of application areas. Those interested in GIS will also be exposed to career opportunities in the GIS field and learn about educational and training opportunities on campus.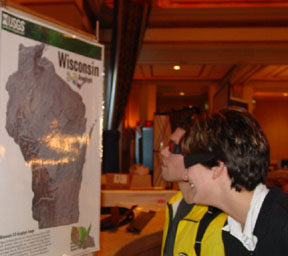 Students Catrine Lehrer-Brey and Jesse Adams examing a 3D map of Wisconsin at GIS Day 2003.
Last year's expo was very successful. Over 250 students and members of the greater community attended. There were presentations, exhibitor booths, hands-on demonstrations, and map posters from over 30 government agencies, academic programs, businesses and non-profit organizations. The Department is planning for an even bigger and more diverse expo this year. The event is free and open to the public.
This year marks the 6th anniversary of GIS Day, an annual global education initiative for the advancement of geography and GIS science.
For more information on becoming an exhibitor or speaker contact Karen Tuerk, GIS Certificate Program Manager at 608-265-9975 or kstuerk@wisc.edu.
See the GIS Day Webpage for more details as November 17th approaches.