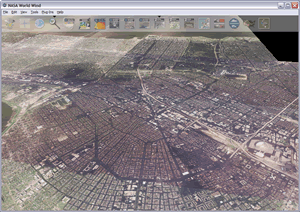 It's been a bad couple of months around the state and nation. The devastation brought on by hurricane Katrina on August 29th almost defies words. Closer to home, the 28 tornados in southern Wisconsin on August 18th were equally tragic for a large number of families in the area. Situations like these remind us all about what's truly important in life– life itself.
In both of these disasters, GIS played an important role in the response. For example, the staff at the Dane County Land Information Office worked diligently cranking out maps for emergency responders on the ground in the Stoughton area. They also used their parcel database combined with field reports to provide preliminary damage dollar estimates to Dane County emergency managers. The Wisconsin Emergency Management (WEM) Emergency Operations Center (EOC) had a partial activation during the event to provide assistance to county and municipal governments. Chris Diller, GIS Manager for the WI Department of Military affairs, was called into action as well. He had the job of quickly pulling together data from various sources in support of the EOC operation.
Several days after the event, the UW-Madison Environmental Remote Sensing Center (ERSC) developed an excellent site that shows, among other things, the path of the Stoughton tornado visible on satellite imagery.
Katrina Geospatial Sites
We'll learn more about how GIS is being used in the Katrina disaster in the coming weeks and months, but in the meantime, I wanted to highlight a number of worthwhile sites to check out. Thanks to AJ Wortley for passing along several of these:
Hurricane Katrina Response Mapping from the Louisiana Geographic Information Center (LAGIC)
http://lagic.lsu.edu/katrina.htm
Katrina: Geospatial Responses
http://www.gismonitor.com/news/newsletter/archive/091505.php
Kartna images from the NOAA Remote Sensing Division
http://ngs.woc.noaa.gov/katrina/
ArcWeb Katrina Disaster Viewer
http://arcweb.esri.com/sc/hurricane_viewer/index.html
Katrina Resources at the Geospatial OneStop
http://gos2.geodata.gov/wps/portal/gos/communities/katrina
Katrina data "add on" for the WorldWind software we featured back in the April issue of the Bulletin
http://www.worldwindcentral.com/wiki/Add-on:Katrina_Data_Add-On
Emergency Management Presentations at WLIA Regional
Given recent events, it worth pointing out there will be several presentations related to emergency management at the upcoming Wisconsin Land Information Association regional meeting in La Crosse. Chris Diller will give an overview of the WLIA Emergency Management Task Force, while Linda Kollmann and Dave Levine from Winnebago County will discuss how they work together during emergencies. Larry Reed will also be on hand to talk about how Wisconsin Emergency Management provides support to local governments.
Thanks for taking time out of your busy schedule to read the Bulletin, and as always, I welcome your comments and feedback: lacy@wisc.edu.