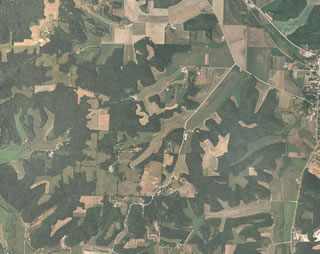 Subset of NAIP image for western Dane County.
On December 19, WisconsinView coordinator Sam Batzli announced the availability of the interim 2005 National Agriculture Imagery Program (NAIP) products for Wisconsin.  Working in cooperation with the U.S. Department of Agriculture Farm Service Agency, the "version-1" products are available for free from the WisconsinView.org website. This interim imagery has no tonal balancing, and has gone through only basic quality assurance procedures. Further processing and error-checking will take place over the next six months, with a final release scheduled for summer 2006. Specific characteristics of the 2005 project include:
Statewide coverage
Natural color film, flown during summer 2005
One meter ground resolution
Referenced to a UTM (NAD83) coordinate system
Each county is available as a single compressed MrSID image
Horizontal accuracy is +/- 5 meters as compared to digital orthophoto quarter quads (DOQQ's) from the National Digital Ortho Program (NDOP)
Unlike most county-sponsored orthophoto projects that are cloud-free, NAIP imagery may contain as much as 10% cloud cover per DOQQ tile
Full FGDC-compliant metadata is included with each image
How does it look?
As a qualitative test, I wanted to see how well some street centerlines would align with the new NAIP imagery. After completing the simple registration form at http://www.wisconsinview.org/form.php, I downloaded the 868 megabyte MrSID image for Dane county. Using ArcMap 9.1, I first loaded the Dane NAIP image, and then overlaid vector linework streamed in from the Dane County "iMap" ArcIMS site. The ArcGIS "project on the fly" feature worked like a charm in this case. My basic assumption was that centerlines generated by Dane county serve as a good point of reference for comparison.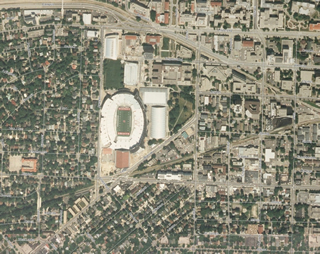 NAIP image with street centerlines from Dane County iMap.
I was honestly surprised to find that the imagery registered better than expected in the areas I spot-checked. It wasn't perfect of course, but I would call it acceptable for many small and medium-scale projects. The lack of tonal balancing is distracting, but as noted earlier, this will be addressed before the final release next summer. Again, this was purely a qualitative assessment, and only for one county.
If you download a NAIP image for your own area of interest, please send me your impressions. I'm very curious to hear what you think.
What about the 2004 NAIP?
In the August 2005 edition of the Mapping Bulletin, we reported on the 2004 NAIP imagery for Wisconsin, also available from WisconsinView. The 2004 imagery is still available, but it covers only about half the state, and has a 2-meter spatial resolution.
For more information on the NAIP program, visit http://www.apfo.usda.gov/NAIP.html.