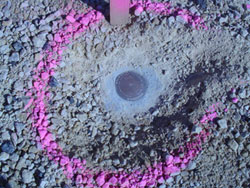 A ceremony commemorating the completion of the Walworth county Public Land Survey System (PLSS) remonumentation project took place on Wednesday, September 21, 2005 in northwestern Walworth County.
The ceremonial placement of the last section corner culminates a project started in 1991 by the county officials to relocate and mark all 2,679 section corners in Walworth county with a sturdy, modern survey monument.
The PLSS was established by the Federal Government in 1785 as a legal reference system that divides and conveys lands from the public domain to private land owners.  It is a network of surveyed lines and monuments consisting of 6-mile by 6-mile townships. Each township is further subdivided into 1-mile by 1-mile sections.  By state statute, counties are the custodian for PLSS corners.  "Remonumentation" is the process of locating and restoring previously marked corners from the original land survey.  This is important because the PLSS serves as the basis for all real property descriptions that affect property ownership, real estate taxes, and many other land information-related records in our state.
Several officials were present for the ceremony that included: Dave Bretl, Walworth County Administrator; Ann Lohrmann, Walworth County Board Chairperson; Phil Evenson, Southeastern Wisconsin Regional Planning Commission Executive Director; Lee Kreblin, Walworth County Surveyor; and Rich Colbert, Walworth County Land Information Officer.
For more information on remonumentation, visit http://www.sco.wisc.edu/plss/corners.php.