NAIP is a yearly program with nationwide coverage to provide leaf-on orthophotography for administering USDA programs. All NAIP imagery is true-color and projected to UTM NAD83 in MrSID county mosaic format at a spatial resolution of 1 or 2 meters.
One meter resolution NAIP is acquired on a five year cycle as replacement base imagery for USDA programs. Two meter resolution NAIP is acquired in between one meter years for checking crop coverage and acreage. For more information, go to the FSA Aerial Photography Field Office website.
USDA acquired 1 meter resolution NAIP for all Wisconsin counties in 2005. This past summer we received final DOQQ geotiff tiles for 2005 NAIP. The DOQQ tiles will hopefully be available for download from WisconsinView.org by the end of January. As anticipated in the April Bulletin, Wisconsin DNR is distributing WTM 2005 NAIP MrSID files internally. Stay tuned for information on general availability to the wider user community.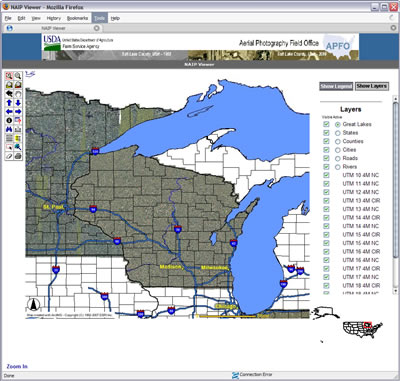 Two meter, MrSID county mosaic NAIP imagery acquired in 2006 is also now available from the USDA. Users will notice color differences across flight lines in many counties because of the long flying season (June 1st to the end of September, 2006). A DOQQ shapefile is provided with NAIP to reference the flying date.
Although 2006 NAIP will hopefully also be available for free download from WisconsinView.org by the end of January, it is currently only available from the USDA Geospatial Gateway (http://datagateway.nrcs.usda.gov/). The catch is that you will need to acquire an e-auth login for NAIP download. After submitting a request for an e-auth login on the geospatial gateway, you will need to visit a Farm Service Agency office and show an id to activate your login. The Geospatial Gateway has other useful GIS data such as DRG's, Census data, and available FSA common land unit farm field boundary layers that do not require an e-auth account to download.
One meter NAIP for all states is also now available as a web service at http://gdw.apfo.usda.gov. If you are using ArcGIS, it works best to add an IMS server in ArcCatalog, then check "Just the following services" and "NAIP UTM 15 or 16" for WI zones. A swath of NAIP will be displayed for the UTM zone north to south. You will notice that some states such as Missouri have infrared imagery. A browser-accessible NAIP viewer is also available.
NAIP will be included in the proposed Imagery for the Nation Program. Your support is needed to sustain NAIP and similar federal imagery programs in the future.