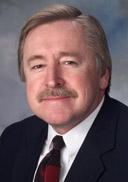 Fred Halfen, Vice President of energy corridors with Ayres Associates in Madison, was awarded the Lifetime Excellence Award from the University of Wisconsin-Eau Claire during a ceremony on December 19th.
The Lifetime Excellence Award is presented to UW-Eau Claire alumni who have demonstrated a longtime, successful commitment to their careers and communities. These individuals have made a positive and dramatic impact through enthusiastic dedication to service and living their lives as a testimony to UW-Eau Claire's motto, "Excellence." "This is one of the most prestigious awards a graduate of UW-Eau Claire can receive, and we are proud to recognize Fred for his accomplishments," said John Bachmeier, UW-Eau Claire director of alumni relations.
Fred earned a bachelor's degree in geography/cartography in 1974. He began his career as a cartographer for UW-Eau Claire from 1974 to 1976, preparing county land-use maps for regional planning commissions. He joined Alster and Associates in 1976 as a cartographer. In 1978, Alster and Associates merged with Ayres Associates. At Ayres Associates, Fred was project manager for photogrammetry until 1982, when he was promoted to manager. He became Vice President of the photogrammetry division in 1987 and vice president of the Madison office in 1999. Fred was elected to one-year terms on the Ayres Associates board of directors in 2007 and 2008.
He was named Vice President of the energy corridors group in March 2008 and continues to serve in this capacity, developing and managing energy projects across the United States, including wind farms, transmission lines, and biomass engineering. He also manages the Madison office, which includes a staff of 50 engineers, surveyors, photogrammetrists, scientists, and technicians.
Fred has been a fixture in the Wisconsin geospatial community throughout his career. He served on the former Wisconsin Land Information Board for five years and co-chaired the Wisconsin Land Information System (WLIS) project team. He also served on the Wisconsin Land Information Association (WLIA) Board of Directors, chaired many WLIA task forces, and served on several WLIA committees. He was the President of WLIA in 2006-07.
Source: Ayres Associates