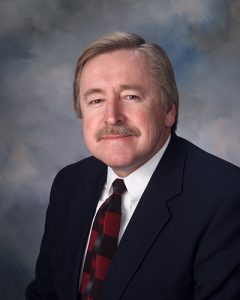 It is with deep regret that we share the sad news of the sudden passing of Fred Halfen, a longtime leader in the Wisconsin geospatial community, who drowned this week in Prairie du Sac. He was 65.
Fred was deeply connected to the Wisconsin Land Information Association, serving as president-elect in 2005, president in 2006, and past-president in 2007. He also sat on WLIA's Board of Directors, served on several committees, and chaired numerous WLIA task forces. Fred received numerous awards related to his WLIA involvement, a testament to his commitment to the organization and an affirmation of his well-earned reputation of being a formidable and respected leader within the association. In 1998 and 2004 he received WLIA's Outstanding Contribution Award. In 2010 Fred received the association's highest honor, the Allen H. Miller Sustained Service Award, for his sustained service and exemplary contributions to WLIA and the Wisconsin Land Information Program.
Fred served on the Sauk County Board of Supervisors, representing District 26, from June 2009 through April 2014. He was a member of several county committees over those years, including Continuum of Care Development, Highway and Parks, Law Enforcement and Judiciary, Board of Adjustment, Wisconsin River Rail Transit Commission, Planning, Zoning and Land Records, Sauk County Development Corporation, and Communications Infrastructure Committee. Fred also chaired the Sauk County Land Information Council, serving from 2011 to 2014.
Fred's commitment to the Wisconsin land information community extended well beyond WLIA and Sauk County, however. He served on the former Wisconsin Land Information Board for five years and co-chaired the Wisconsin Land Information System project team. In 2010 he earned a Lifetime Excellence Award from the University of Wisconsin-Eau Claire, an honor bestowed to UW-Eau Claire alumni who've demonstrated a longtime, successful commitment to their careers and communities.
Fred led a long and distinguished career at the architectural and engineering consulting firm Ayres Associates, serving in multiple leadership roles until his retirement in 2011. He first joined Ayres as a senior technician in 1976, providing leadership in the photogrammetry division before becoming a regional vice president of the firm's Madison office. He also served as vice president of photogrammetry and, later, as vice president of the company's energy corridors group. His exemplary leadership skills did not go unnoticed, and he earned a President's Award at Ayres in 2006.
Scott Wilson, vice president of Ayres Associates, was a longtime friend and colleague of Fred's and, like many of us, struggles with the hard-to-fathom news of this great loss.
"It was a blow to my heart and my head. It's just hard to wrap your brain around it," says Wilson, who worked with Fred for 23 years and had just attended last Saturday's Wisconsin Badgers football game with him. "Fred had a heart of gold, and the world will be a different place without him in it."
Fred lived in Prairie du Sac with his wife, Alice. He is survived by two sons, Ben and Alan, and one granddaughter.
Formal funeral services will not be held, although a gathering for friends and family is planned for October 26. Details are pending.
Source: Ayres Asssociates
Update: A celebration of Fred's life will be held at Hooverson Funeral Home in Sauk City, WI on October 26th from 4:00 to 7:00 pm. The visitation will be followed by an informal gathering/meal at the Prairie du Sac Town Hall building.  Fred's obituary is available on Channel3000.com.