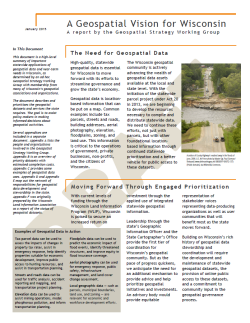 The Wisconsin Geospatial Strategy Working Group, an ad hoc committee comprised of members representing many of Wisconsin's geospatial associations and organizations, published the first public draft of "A Geospatial Vision for Wisconsin" earlier this week.
Aimed at "assisting policy-makers in making informed decisions about geospatial activities," the document describes the needs for geospatial data in Wisconsin, and provides examples of geospatial data and technology in action.
The report highlights two critical areas in need of attention in Wisconsin: data access and governance.
The Working Group suggests "a policy ensuring open, online access to geospatial datasets is needed to ensure that citizens and businesses have access to data developed locally throughout the state."  They also go on to recommend the establishment of a volunteer committee designed to advise the state's Geographic Information Officer on geospatial priorities.
The Working Group would like feedback on the draft document from the geospatial community.  Comments can be directed to Co-Chairs Jon Schwichtenberg (WIGICC Chair) or Justin Conner (WLIA President).