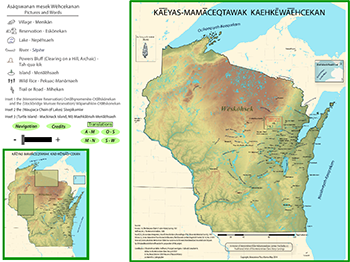 The Interactive Menominee Place Names Map is now accessible online. The map utilizes modern cartographic technology to preserve the Menominee language through traditional knowledge of place.
The map is the culmination of over 30 years of research into traditional Menominee location terminology and related stories, portrayed using state of the art digital cartography and web production. Initiated by Menominee and Ottawa descendant Mike Hoffman, one of a handful of fluent Menominee speakers, this endeavor both records Menominee geographic territory and allows site users to navigate this region and listen to names for places, rivers, lakes and landforms. While somewhat similar projects have been undertaken across the country, this is the first such site to accurately delineate an indigenous tribal territory and provide place and landscape feature names in their traditional language. Many Native languages are in decline across the US, and Menominee is no exception. The interactive map was developed to serve as an archive and language teaching tool for the Menominee Language and Culture Commission and to allow non-native speakers of the language to appreciate the extent of the tribe across Wisconsin, and experience traditional place-related terms.
The multi-year production of this map involved digitally and accurately presenting Mike Hoffman's extensive early literature and ethnographic research proofed and expanded with personal interviews of fluent, often first language speakers. The inclusion of specific Menominee place names and landscape features was limited only to those that could be vetted from multiple sources and broken down to recognizable Menominee dialectical terms. Joe Martell, a recent Geography Department graduate at UW-Stevens Point, provided the cartographic, GIS, artistic and web production skills that allowed the project to become an online teaching tool for the Tribe and a cultural resource for Native and non-Native speakers alike.
Maps are graphic ways of displaying extremely complex sets of information. Indigenous peoples often cognitively map their immediate and larger regional surroundings. Early peoples passed down stories and songs to help later generations safely navigate across both known and unfamiliar terrain and locate sources of water and food. With the advent of writing and printmaking Europeans produced maps that they also used as travel aids and as verification of ownership. Native peoples rarely if ever envisioned the world as a set of owned or somehow restricted separate parcels, and hence did not produce what would now be recognized as maps.
The Interactive Menominee Place Names Map introduces a visual and audio indigenous representation of the area we know as Wisconsin. Browsing this map will reveal the connection between current Wisconsin place names and their ancient Menominee origins.
The Interactive Menominee Place Names Map represents a significant collaborative effort involving the Menominee Language and Culture Committee Code, Cultural Consultant to the Menominee Clans Story at UW-Stevens Point Mike Hoffman, Chris Cirmo Dean of the College of Letters and Science at UW-Stevens Point, Dr. Keith Rice, Joe Martell and other faculty and students at the UW-Stevens Point Geography Geology Department, and Dr. Ray Reser, Director at the UW-Stevens Point Museum of Natural History. This project could not have been completed without the generous expertise and commitment to excellence of all parties involved.
The paper version of the Menominee Place Names Map released last year took top honors at the 2014 Wisconsin Land Information Association Conference in Middleton WI. Student Joseph Martell brought back three awards for the Department: 1st Place in the Thematic Map category, Best Student Map, and People's Choice. The Menominee Place Names Map also was recognized by the Washington DC based Council on Undergraduate Research, Posters on the Hill committee and given an Honorable mention, placing in the top 10% of the 600 accepted projects from across the nation.