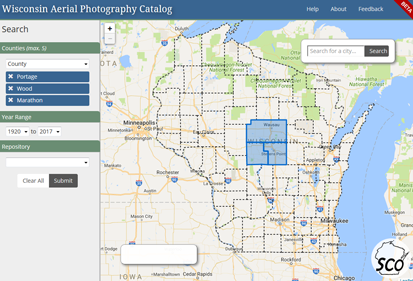 The office would like to invite you to try out our new Beta Wisconsin Aerial Photography Catalog. As one of our longest running and most popular online resources, the catalog has been updated in the quality of content and underlying programming in this latest iteration. While we haven't fully re-populated the catalog yet, we're inviting long-time users to try out the new application and let us know how it goes!
This effort wouldn't have been possible without the collaboration and assistance of Jaime Martindale at the Robinson Map Library and many students from both the Library and the State Cartographer's Office. In particular we'd like to acknowledge the excellent programming contributions of former and current students Caitlin Wolters, Tobin McGilligan and Ben Schroeder who developed the application with an eye toward mobile compatibility and an improved user experience.
This effort is part of a larger effort to modernize the SCO's suite of web applications while providing valuable hands-on service learning experience for an increasingly talented lab of student developers. Stay tuned for our beta release of the new Wisconsin Historical Aerial Photography Finder, or WHAIFinder, application.