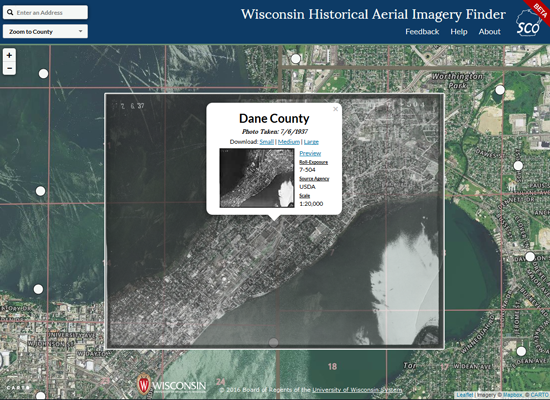 The office would like to invite you to try out our new Beta Wisconsin Historic Aerial Imagery application. As one of our most popular online resources, this application for downloading aerial photos from the late 1930's has been redesigned and reprogrammed in this latest iteration.
This effort wouldn't have been possible without the talented work of students developers from the State Cartographer's Office. In particular we'd like to acknowledge the excellent programming contributions of former student employees Tobin McGilligan and Ben Schroeder who developed the application with an eye toward mobile compatibility and an improved user experience. They also expanded their programming skills taking advantage of the new CARTO platform and API's for their work.
This effort is part of a larger effort to modernize the SCO's suite of web applications while providing valuable hands-on service learning experience for an increasingly talented lab of student developers. Please send any questions or feedback to help@sco.wisc.edu.