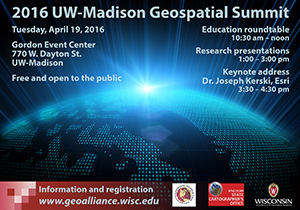 HURRY! Submit your abstract for UW-Madison's Geospatial Summit on Tuesday, April 19th at Gordon Commons. Only seven slots remain available. Registration is free!
A total of fifteen, twenty-minute presentations will be held concurrently in three rooms from 1:00-3:00 pm. Are you doing interesting research, instruction, or service activities using geospatial technology? Consider submitting an abstract for a presentation! You don't need to be affiliated with UW-Madison to present– we welcome participation from the broader geospatial community.
A special education roundtable will kick off the 2016 UW-Madison Geospatial Summit on Tuesday, April 19th from 10:30 am to noon. This session will bring together academics and professionals to discuss the topic, "What geospatial workforce skills are on the horizon and how is higher education responding?"
Then from 1:00 – 3:00 pm will feature 15 concurrent paper sessions and from 3:30 – 4:30 pm will feature a keynote presentation by Dr. Joseph Kerski of Esri. Dr. Kerski is Esri's Education Industry Curriculum Development Manager on the Education Team in Denver, CO.
The Geospatial Summit is free and open to the public. Register TODAY for the Summit via the SUMMIT tab on the Geospatial Alliance website or click here.
Please contact Brenda Hemstead at hemstead@wisc.edu or Howard Veregin at veregin@wisc.edu if you have any questions.